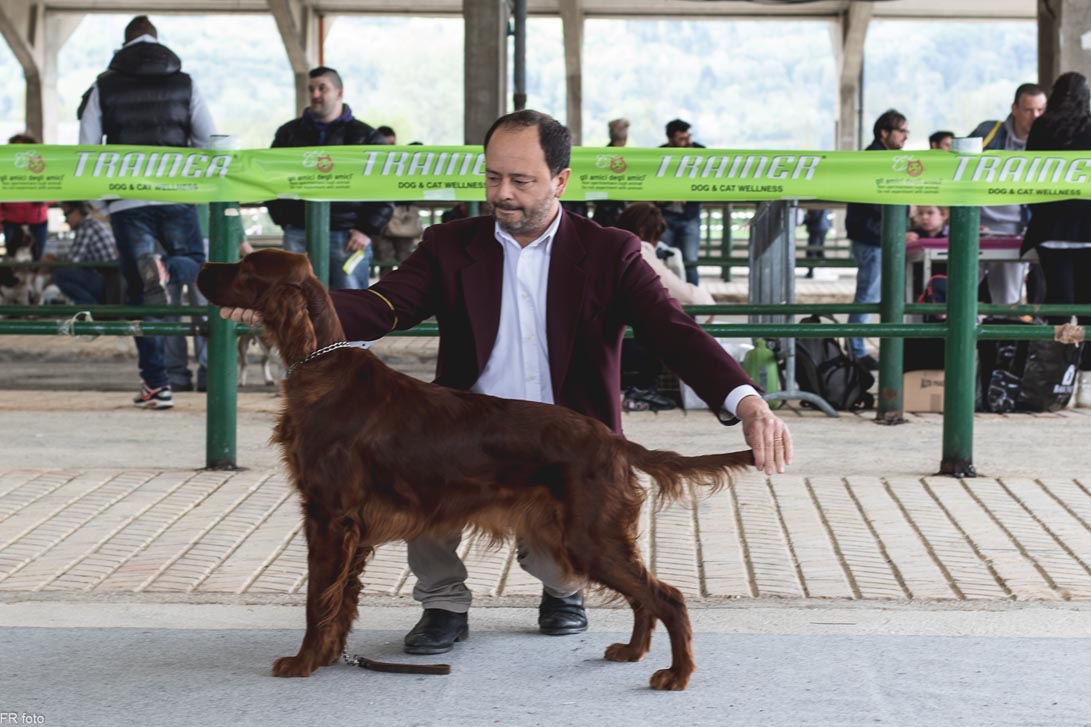 The dog show will be held inside the WILD NATURE EXPO, the hunting and fishing fair held every year in this period; below we have summarized the two-day program.
On April 16th we will have performances of shows from the dog world, including a show of disco dog, falconry, obedience, utility, mondioring, agility, seminar on feeding and training hunting dogs, sheep dogs, and so on; then on April 17th the actual race will be held, which this year is divided into 11 specials:
SPECIAL TERRIER TYPE BULL judge TONY CUDA
SPECIAL PITBULL judge NUNZIO DI STEFANO
SPECIAL BULLY judge DAVIDE MUZI
SPECIAL SCHNAUZER judge ROSSANA STANISLAO
SPECIAL LABRADOR RETRIEVER judge ANDREA ZENOBI
SPECIAL HUNTING DOGS judge DOMENICO VERDECCHIA
SPECIAL AKITA INU judge STILL TO BE ASSIGNED
SPECIAL GERMAN SHEPHERDS judge CATERINA BRUNELLI
CHIHUAHUA SPECIAL judge OLGA FRABONI
SPECIAL CZECHOSLOVAK WOLF judge ALESSIO CAMATTA
SPECIAL OTHER RACES judge CATERINA BRUNELLI
The race takes place like this:
the presentation of the judges begins. Then the race begins with the start of the judgments:
each special will compete in the ring and the dogs will be divided into 4 categories: puppy (3-6 months), juniors (6-9 months), young (9-18 months) and free (after 18 months).
The winners of the categories will go directly to the final best in show, while the most beautiful specimen will be awarded for each special and will be rewarded with a special prize (including thermal kennels for stays + spa, stays in various tourist locations in Italy or abroad. ), especially for the SPECIAL HUNTING DOGS we made a special award ceremony, that is, the first 3 will be awarded:
the first classified will win a STAY WITH BREAKFAST AND VOUCHER FOR A VALUE HUNT (only for the expulsion) OF € 150 AT THE VENATORIA SANTA VITTORIA COMPANY IN VOLTERRA (PI). The second place will go to a splendid BERETTA brand jacket, a high-class model, offered by ARMERIA LUCHETTI DI CASTELFIDARDO (AN). Third place 4 PACKS OF CARTRIDGES OF 25 VARIOUS LEADS, OFFERED by ARMERIA LUCHETTI DI CASTELFIDARDO (AN). Before the best in show there will be other shows from the dog world among which the CINOPHILIC SCHOOL OF COMMANDER ALDO TAIETTI UNAC UNION NATIONAL ARMA DEI CARABINIERI will honor us with their presence.
Then there will be the junior handler for children, all children will be rewarded with a medal, then for the best there will be a special prize, including an MP4 VIDEO AND various bags of croquettes.
Finally there will be the 4 best in show, one for each category, and the first 3 will be awarded with trophies, bags of croquettes and prizes offered by MUSCLEFORDOG. At the end of the awards there will be thanks for the judges and all the sponsors.