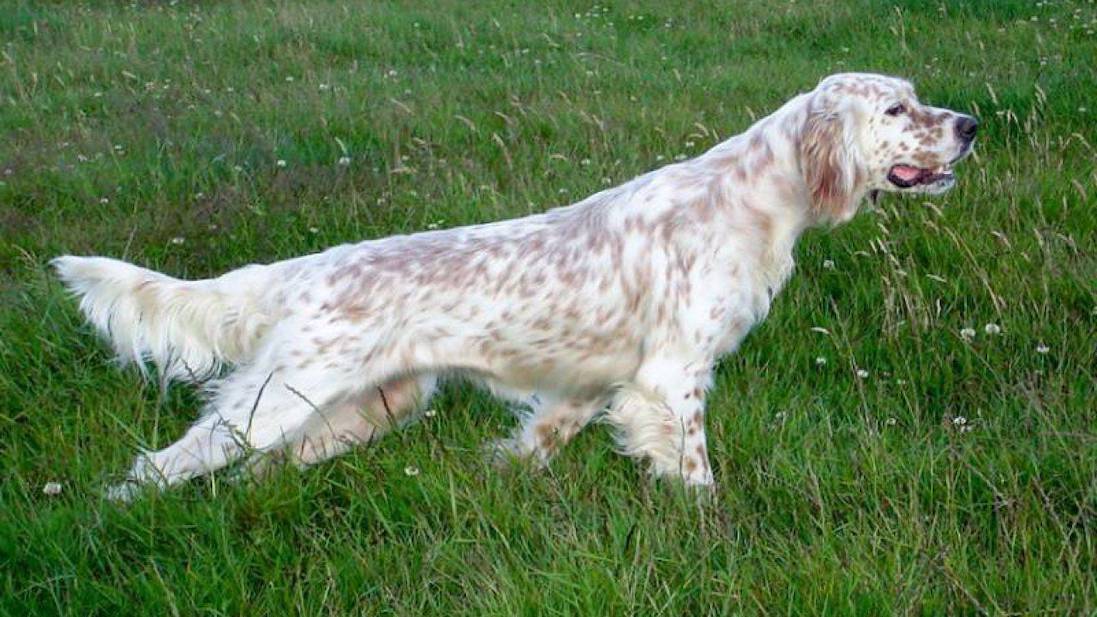 Patience and determination. Above all, these two things are needed to teach a dog basic commands. The task seems difficult, but it is not impossible. L'training it tends to get complicated when dealing with older breeds, such as hunting ones. The English setter, an infallible hunter of many species of birds, is a perfect example from this point of view. This animal tends to be a lot calm in the house it's a lot active when he is atopen air. It is a very familiar species that will adore staying with its owner on the sofa and requiring cuddling and affection.
Characteristics of the English Setter
Il English setter originating in Britain, as the name suggests, is one of the pointing dogs. Unlike its cousins Scottish setter e Irish setter, has long and thick white hair. In some cases it may also have brown, orange and black spots.
The hound is perfect for the hunting because it has one extraordinary smellor through which he can smell the game even after several hours from its passage without ever losing track.
Setters are also skilled in the water, but during the winter it is better not to take them to the rivers, because as they do not have the undercoat, they do not have protection against frost.
How to train the English Setter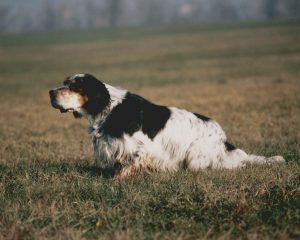 As previously said, the Setter has a particular character so when you decide to train it you have to pay attention to some aspects. Let's see how to approach this practice in the best way.
Il English setter is a very dog friendly, but it needs to affection and above all of feel accepted by the entire family. So even if you are the point of reference for him, he must also feel welcomed by others, including pets, such as cats or other dogs. The important is make him feel an active part, making him live in the house. Furthermore, theeducation must be affectionate, without being particularly harsh if he makes any mistakes.
The hound is a dog intelligent, who knows his abilities, so to make him respond to commands, the better to establish immediately the hierarchies. The key thing is to you proved the leader by imposing a few simple and clear rules.
It is good to make him understand the rules in a decisive way, without shouting or being overly authoritarian.
The English Setter is a dog habitual and you have to adapt to family life. So everything you do with him like, the walks, the games, the Easter must be carried out always at the same time. This way the dog will be balanced and calm, essential elements to facilitate learning.
The English Hound is very lively and active with one natural propensity for hunting. For this theexercise is key. The energy must be channeled and then vented in the best way and so sports it is your case. Racing outdoors, carry-over or the search for an object they are great ways to let him vent and educate him about hunting.
When to start training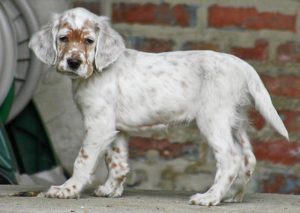 As with any breed, thetraining must continue a little steps, with pauses and basic commands. Fundamental help can come fromtrainer. The professional will teach you how to do it correctly.
Setter training usually needs to be done when it is puppy. This is because from an early age must learn to respond quickly to commands and thus become an excellent hunter.
Many think it is better start training when it is a little bigger around the first year of age. It actually is counterproductive why it has already formed its character and teaching him the most important things becomes difficult and challenging. Again it is essential to adopt a leadership attitude, without being bossy or too harsh. It has to live this phase as if it were a game and it must be funny.
Help can come from rewards every time he performs the exercises well, but above all these must be repeated several times in such a way that they become like a natural activity. Furthermore, the dog must understand that every command or word corresponds to a gesture or action on his part.
To make the activity positive, especially when it is no longer a puppy, you have to start in a place where there are no distractions. The garden front of the house is the perfect place. Once you have learned the basic commands, you can move on to campaign, so he gradually comes into contact with nature and with the place where he will carry out his hunting activity.
In any case, both in the protected place of the house and outdoors, it must be used against the setter sweetness and tranquility not to scare him.
How to prepare the dog for hunting
Even if he is a dog naturally predisposed to hunting, better not to expose the puppy to the shot if he's not used to it. Before you do it, better get used to the rumorand, because otherwise they could be frightened.
To get used to the noise, you have to recreate the same shot as the rifle through slammed doors, recreate the noise on metal objects.
This phase must be accompanied by the knowledge of game, which can be done within specific areas. Once you are passionate about it and understand its task, you can gradually do it familiarize yourself with the shotgun. Better to start using a gun loaded with blanks then move on to the shotgun.
Once this phase is over, you have to bring the dog closer to the game constantly. The more it comes into contact with birds and wildlife, the more it will get used to its smell.
The favorite animals for pointing animals are essentially the birds. Obviously this phase cannot be performed inside the home garden, but must be carried out in the countryside or in open fields.
Father participate the dog in a hunting trip is critical. The first few times it is not necessary to use the rifle. The hunter can also go hunting without the weapon. At this stage it is crucial for the English Setter come into contact with game, study his habitat, smell the smells. All elements that serve the hound to get used to its task and become an excellent hunting dog.