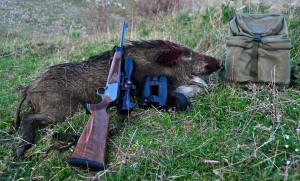 Starting tomorrow day, Saturday June 10 2017, selective killing of wild boars will begin in the Marche region. This was decided by the Region on the hunting calendar 2017-2018 as regards the taking of ungulates. The plans were adopted by the various Territorial Areas of Hunting and from private companies, taking inspiration from the density of the territory and the need for eradication in the areas.
Zone C (in the vicinity of urban centers and in man-made areas) there will be no abatement limits, while in zones A and B the limitations will be differentiated according to the territories. In Ascoli Piceno, for example, there will be no selection hunt for wild boar in the two areas, unlike Fermo, Macerata, Ancona and Pesaro. The Marche Region has also foreseen some interesting news. In fact, adult female specimens can be eradicated in zone C.
The plan will last until January 31, 2018 as a whole, while age groups and gender will lead to some early closures: on 30 September except for adult females (A and B), from 10 June to 31 January for all classes and sexes (C) and from 1 October to 31 January for all classes except for females. Among other things, the provision of the junta also speaks of other species, including the male roe deer (16 August-30 September), male and female roe deer (1 January-15 March 2018), and the fallow deer (from 2nd to 30th September, from 1st November to 15th March and from 1st January to 15th March).