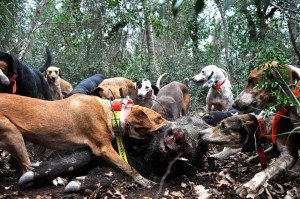 There are five days left before an important appointment that was organized byANUUMigrators at Crispino Exhibition Center in Frosinone: Saturday 10 September 2016 at 18 pm a meeting-debate is scheduled to deepen the new regulation in force in the Ciociaria capital on wild boar hunting. The main goal is to find the best solutions to the severe emergency represented by the ungulate in this part of Lazio.
Hunters want to give birth to a text that will then be sent to the competent authorities to ask quickly for a targeted and above all decisive intervention. This is why the association has made it known that the presence of all those people who intend to make a contribution.
Furthermore, the opening will be maximum towards the representatives of all the categories that are involved, without neglecting environmentalists and farmers. The meeting will be used to officially present the National Federation of Recognized Hunting Associations (FENAVERI) just established. Among the speeches there will be those of the national leaders of the ANUU and the regional and provincial president of Lazio, Franco Cerro.