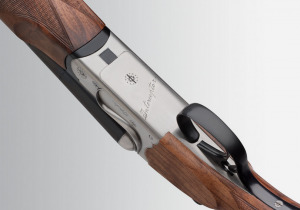 An exact week: Hunting Village, the expected event that takes place in Bastia Umbra (province of Perugia) is fast approaching and one of the most attractive moments will surely be the one organized by Ephebes at the Workshop Area. Inside Pavilion 9 the company from Concesio (Brescia) took care of the presentation of theExpress Effebi Interceptor Saturday 12 May 2018 at 14 pm. This is the side-by-side shotgun with two rifled barrels, complete with a side pipe action that was made for forging from a single block of high-strength steel.
The steel of the barrels is UM8, without forgetting the rotary hammering that was guaranteed by the GFM machines. In short, this weapon is a guarantee of maximum accuracy from a ballistic point of view. The rear sight is positioned in the rib, in addition to the fiber optic viewfinder. Among other features, then, we cannot overlook the butt with the cheek pad and the beavertail forend: both were made with superior walnut wood, not to mention the brushed oil finish.
Express Effebi Interceptor is also available with manual or automatic extractors and the double trigger or single trigger at the customer's request. The available calibers are different, namely 7x65R, 8x57JRS, 9.3x74R, 30R Blaser and 45-70 Gov. Finally, the overall weight of the shotgun is 3,6 kilograms.