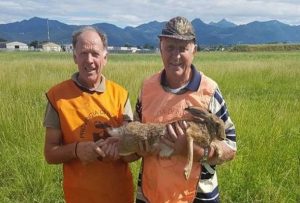 The month of January and the new year are getting closer and closer with 2019 starting, we must refer to the relevant calendar which regulates the hare catches in the territory ofPesaro Hunting Territorial Area 1. The Marche ATC has announced the first dates of the next weeks. It will begin on January 2 at the AR Stroppato, in the municipality of Pesaro-Gradara to be precise. We will then continue on 4st January with the capture within the "Ventena" Restocking and Capture Area (Conca-Tavoleto Market).
On 5 January it will be the turn of the municipality of Vallefoglia and the "Talacchio" Public Wildlife Reproduction Center (CPURFS). After a short break, will resume capturing hares on 8 January in Tavullia, specifically in the "Marrone" ZRC. The last three dates are 11th (CPURFS "Sassofeltrio"), 15th (CPURFS "Villa Ceccolini" in Pesaro) and 18th January (CPURFS "Rancitella" in Urbino). Each operation will take place through the use of dogs (one for each hunter).
The performance will be ensured only in the presence of a sufficient number of people and by 7:30. In case of bad weather the capture will be canceled and eventually the date will be recovered after having agreed with the operators. Finally, the registration fee for the Pesaro ATC for the 2019-2020 hunting season will be reduced to the hunters who participate, that is to say 5 euros less for each catch up to a maximum of five.