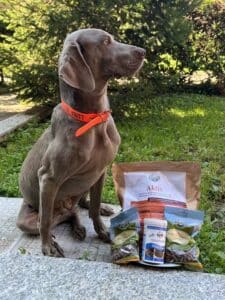 THEfeeding dogs especially hunting ones is very important as it comes to working dogs. By now, the idea is well established that feeding your hunting dog correctly, not only improves health and well-being, but even mood and sports performance. That's why you need to use it only balanced foods of the highest quality, so as to give our hunting dog all the energy and nourishment necessary to be physically well and achieve significant results. We decided to try the BELLFOR dog food, serious German company that produces dog food of the highest quality. Here we are, therefore, to browse the company's website where we see a great variety of dog foods divided by dog ​​breeds and types of use.
BELLFOR it is much more, it also produces complete lines of supplements and other professional products specially designed for care and health of your dog. Our choice fell on BELLFOR Aktiv gluten-free, professional food for sporting and working dogs that practice agility, canicross or other sporting activities. An active dog needs rewards, which is why we have decided to add some to our order as well snacks for dogs. Our curiosity was captured by soft and hypoallergenic snacks with insects.
Bellfor was the first European company to launch insect-based dog food in 2016
Browsing on the e-commerce company site BELLFOR we note that there is also a free service to be able to speak with a veterinary nutrition expert and evaluate with him the correct nutrition for your dog, for hunting, for work or simply as a companion. In addition, on the manufacturer's website there are dedicated lines of specific foods and supplements for the various dog breeds. We want to remind you that dog breeds are different not only in appearance but they need to specific foods differentiated according to the breed, in order to improve health and wellness of our dog friend. Placed the order, the shipment is entrusted to the DHL express courier and in just 48 hours the courier delivers our products comfortably at home. Now we just have to discover them together and understand if Luna, a seven-year-old Weimaraner who boasts a palmares of successes in international hunting competitions, will appreciate our choice.
BELLFOR Aktiv gluten-free
So we decide to try dry dog ​​food BELLFOR Aktiv gluten-free based on chicken and sea fish. Taking a look at the packaging and reading the characteristics of the product, we immediately understand that it is a very complete, well balanced food with a high number of nutrients, just what they need hunting, working and guide dogs. Nutritional analysis present on the package leaves no doubt about the product. The manufacturer used to make these dog treats, two excellent protein sources, high quality chicken and sea fish with a dry meat content of 42% and a high percentage of omega 3 made from linseed and salmon oil.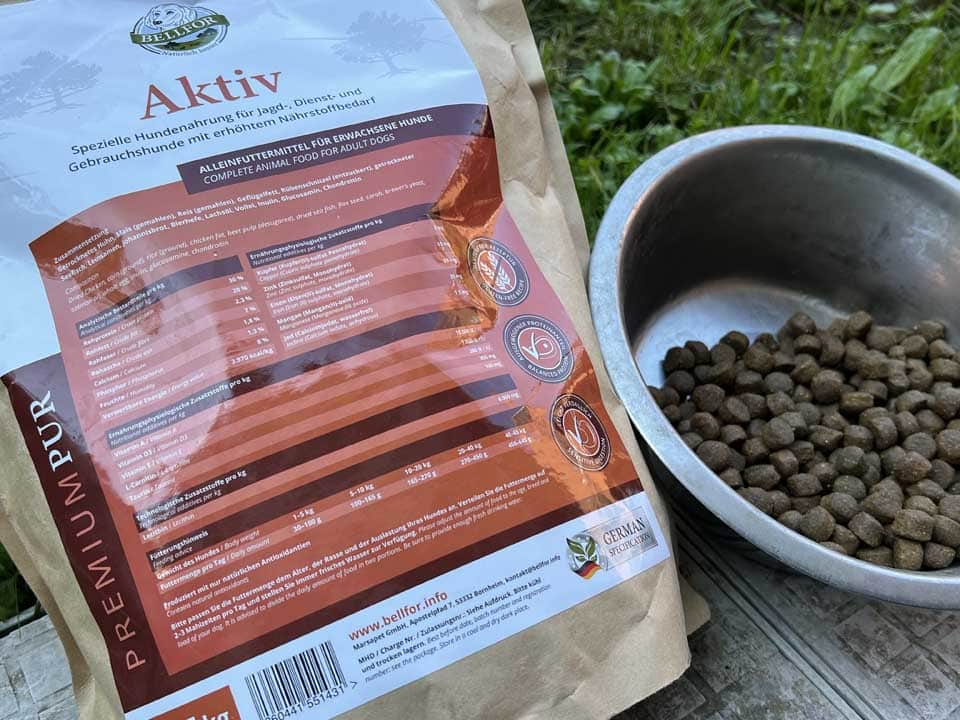 How natural prebiotic for a stable intestinal flora and therefore also strengthen the immune systeminulin (FOS) and the high content of natural antioxidants such as selenium and vitamin E. Through trace elements in chelated form, BELLFOR Aktiv becomes the highly bioavailable dry food for dogs, with very high palatability that thanks to its composition improves the natural defenses of our dog.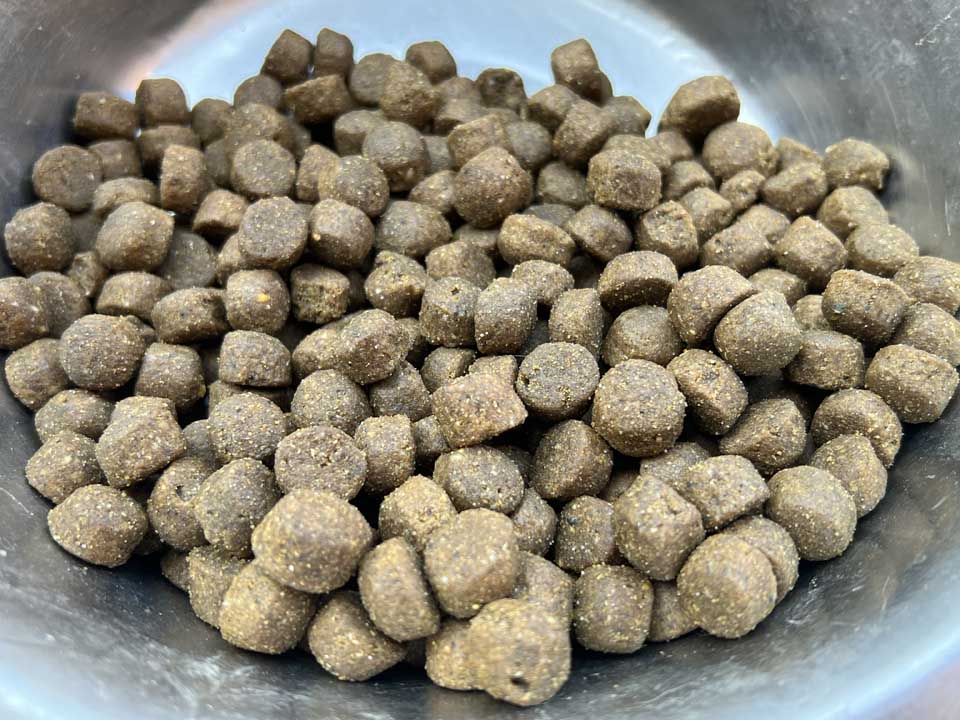 Once the package has been opened, we have thus inserted BELLFOR Active in the nutrition of our weimaraner. We can say that already after a few days from the inclusion of this dog food, Luna is very active and more energetic, with higher yields during summer training and with a shinier coat than usual. Obviously intense workouts require just as many delicious rewards, like the soft hypoallergenic BELLFOR snacks with meat or insects.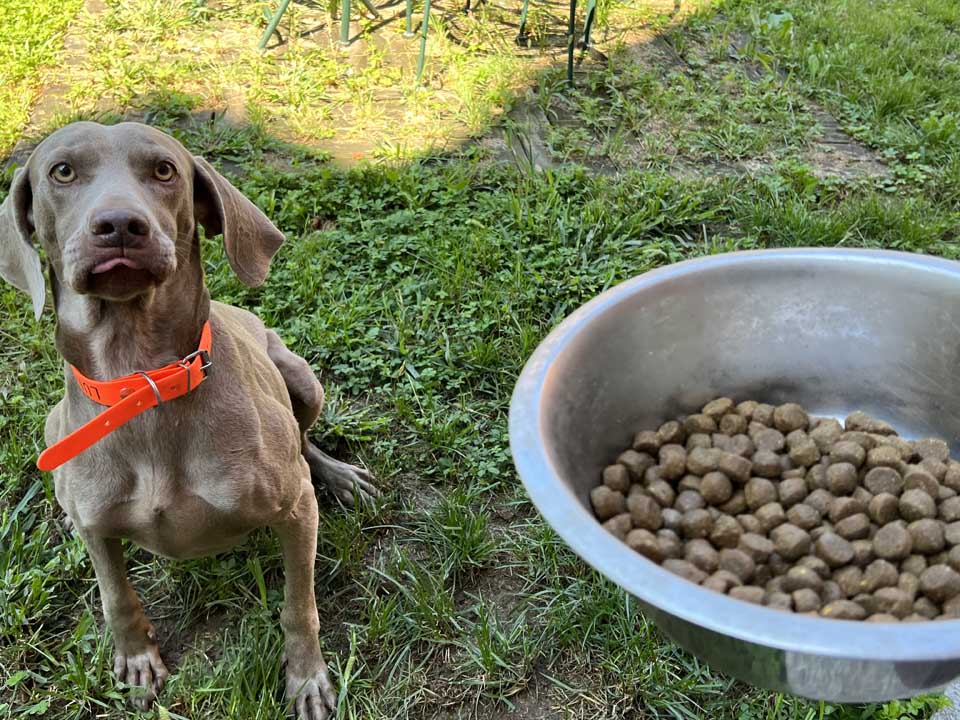 The soft, hypoallergenic BELLFOR snacks
The latter have proved successful. Luna is thrilled with the snacks for dogs based on insect proteins. In fact the insect protein that BELLFOR uses for its snacks comes from the black soldier fly (Hermetia Illucens), an insect that has a complex amino acid profile, organic molecule essential for the constitution of healthy proteins aimed at restoring and maintaining muscle tone and mass. But not only that, a correct intake of essential amino acids in the dog's diet, it is also converted intoincreased immune defenses.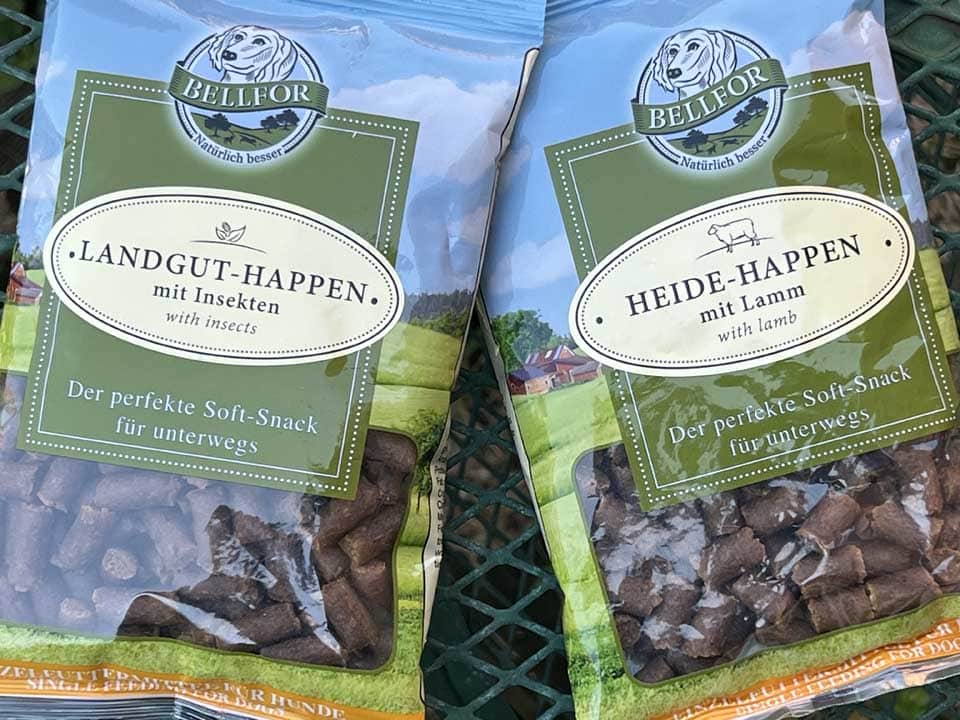 BELLFOR fitness powder supplement
Very active dogs such as hunting dogs, sled dogs, dogs used in service or rescue activities, sporting dogs that practice agility or canicross, certainly need a special treatment in their diet, that's why we added thefood supplement BELLFOR fitness powder, highly recommended food supplement to optimally support active and capable sporting dogs accelerate recovery after intense competition or effort.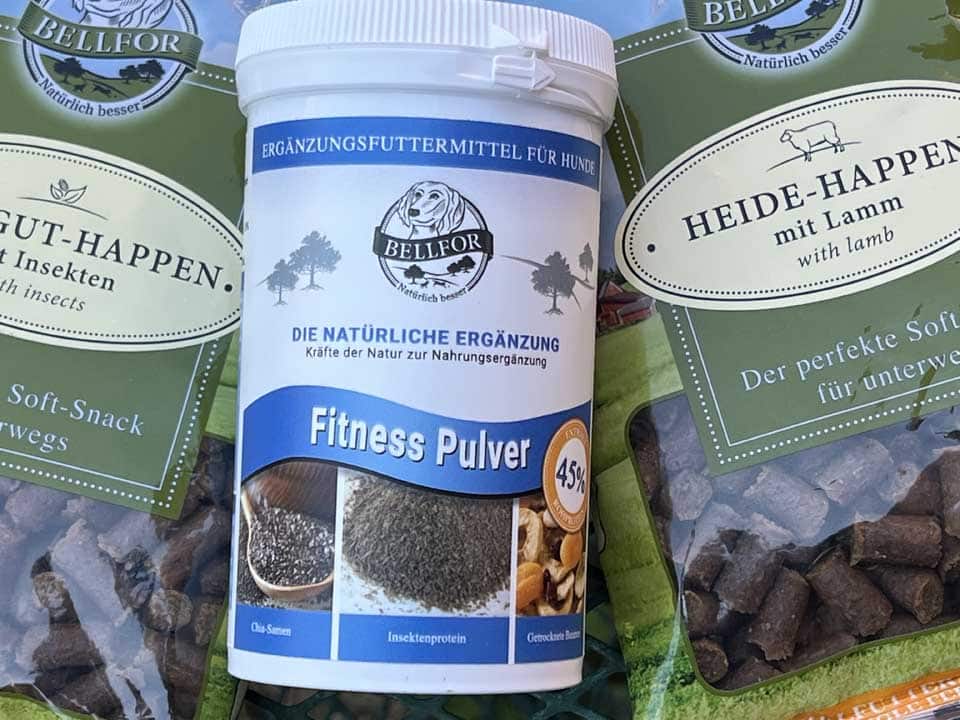 With this article we would like to thank BELLFOR for making our beloved weimaraner "Luna" happy, full, but above all healthy with its products for dogs.