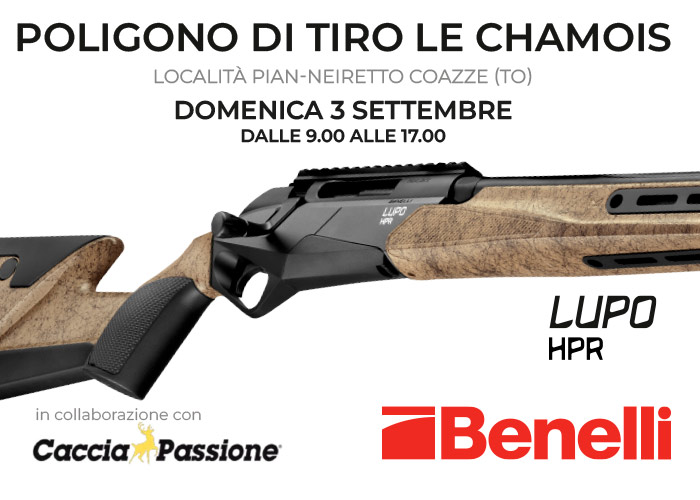 Here comes the BENELLI LUPO HPR DAY 2023. Have you ever wanted to test your long range shooting skills with some of the most advanced and innovative guns on the market? The wait is over! The BENELLI LUPO HPR DAY is upon us with ben three stages in Italy, Piedmont, Lazio and Campania. Let's go Sunday 03 September 2023 with the first date and all the sport shooting and hunting enthusiasts they will have the free opportunity to experience an unforgettable day in the company of BENELLI and CACCIA PASSION al Pian Neiretto shooting range – Coazze (TO), Piedmont. BENELLI HPR DAY is the perfect opportunity to touch and form a direct opinion of the extraordinary rifles Benelli Lupo HPR BE.ST, Lupo BE.ST Gray Elevated II and across the entire range Wolf. These guns offer unrivaled performance for long range shooting and hunting, ensuring accuracy and reliability in every shot.
PROGRAM:
- Date: On Sunday, 18th September 2016
- Location: Shooting range of Pian Neiretto – Coazze (TO), Piedmont
- Preferred Time: from 9:00 to 17:00. All participants will receive a free BENELLI Welcome Bag and after a breakfast offered by the shooting range, from 09.30 they will be able to try their hand at sport shooting for free 200; 400; 600 and 800 yards. Those in possession, please bring their own ear defenders, others will be provided with ear plugs and disposable shooting glasses.
- Lunch: 13:00 – 14:30 lunch will also be offered to all participants at the restaurant of the shooting range.
- Amateur race: from 15:00 to 17:00 there will be an amateur challenge with prizes for the first classified who will try their hand at long-range shooting.
The experience with the new Benelli Lupo HPR BE.ST rifles:
IBENELLI LUPO HPR DAY is the perfect opportunity to discover the extraordinary Benelli Lupo HPR BE.ST air rifles and with the entire range of Benelli Lupo air rifles. These guns offer unmatched performance for long-range shooting, ensuring accuracy and reliability in every shot. The name of the new one Lupo HPR carbine comes from the acronym of High Precision Rifle, high-precision rifle and was born to give the maximum in shooting professional long range and hunting.
What awaits you:
1. Practical shooting experience: you can try your hand at long-range shooting sessions, challenging targets a 200, 400, 600 and even at 800 yards. You will be guided by industry experts who will provide you with tips and tricks to improve your aim and performance.
2. Carbines and ammunition provided: the organization will provide carbines and ammunition to ensure a smooth and engaging experience. You will be able to focus only on shooting and on the challenge of beating your limits, thanks to the valuable advice of Benelli TEAM. We remind you that goggles and headphones are mandatory in the firing line.
3. Welcome Breakfast and Lunch: to start the day with energy, all participants will be offered a welcome breakfast. Lunch will also be free and served at the shooting range restaurant. There you will have the opportunity to share your experiences and what you have learned during the morning shooting sessions, with the other lucky participants of the first of the three Italian stages of the awaited BENELLI LUPO HPR DAY event.
Participate for free - Limited places:
Participation in the BENELLI LUPO HPR DAY is free for all firearms holders. However, hurry! Available places are limited to only 35 participants. Don't miss the opportunity to be part of this unique experience.
How to register:
To participate, it is mandatory to register by completing our online registration form. Just fill out the form below and wait for our confirmation email:
EVENT CONCLUDED
Stages calendar:
The BENELLI LUPO HPR DAY 2023 includes three stops in Italy:
- Sunday September 03th: Piedmont – Poligono Pian Neiretto (TO)
- Sunday 29 October: Lazio – Rome
- Sunday 19 November: Campania-Salerno
Don't Miss This Amazing Opportunity!
The event BENELLI LUPO HPR DAY it is the ideal opportunity to immerse yourself in the thrill of long-range shooting and discover the incredible capabilities of the Benelli Lupo HPR BE.ST rifles and of the entire Benelli Lupo range. Sign up now to secure your place and get ready for an unforgettable experience!
Note: We inform you that in order to participate in the initiative, possession of a valid firearms license will be mandatory. Registration is mandatory to participate in the event. You will receive a registration confirmation via email from CACCIA PASSION.