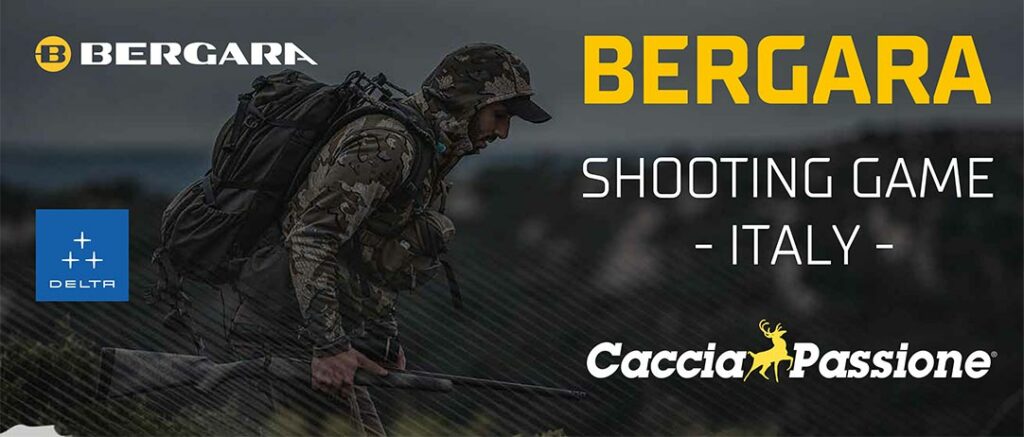 All ready for the Italian leg of the Bergara Shooting Game. Fifty participants foreseen and confirmed for this first experience of the BERGARA SHOOTING GAME Italy. Sunday 21 May 2023 the TAV Piancardato in the province of Perugia it will be the stage for the Italian stage of the BERGARA SHOOTING GAME. Lucky shooters and/or hunters will be able to touch all the new ones firsthand Bergara carbines, such as range B14 equipped with the latest innovations in the field of aiming optics, Delta. Not even bad weather will be able to stop the participants who have registered for free in the event organized by Caccia Passione, in collaboration with Redolfi. Main sponsor of the initiative, Bergara and Delta.
It should be noted that the request to participate in the event had an extraordinary success, places sold out in just two hours, a sign that our readers like Bergara rifles and Delta optics a lot.
During the day of the BERGARA SHOOTING GAME participants will be able to use all the latest Bergara and Delta news for free. It starts with a first shooting session at 100 m and then gradually increases the difficulties, up to the position dedicated to long distances. Here we are at the end of the morning shooting sessions with our Delta scopes supporting the Bergara rifles calibrated for shooting at more than 400 metres.
Well, now that we have learned the notions of shooting at short and long distances and, after having had our fill of fun and fire notions, here comes the time for the lunch offered to all participants at the restaurant of the facility chosen for this Italian leg of Bergara Shooting Game.
Obviously, the surprises that the organizers have reserved for their guests are not finished yet and, in the afternoon, tAll participants of the Bergara Shooting Game will be able to take part in an amateur competition reserved for them. There they will have the opportunity to put into practice all the advice received during the morning shooting sessions from the Bergara Team instructors. To the winners of the podium, in addition to the customary photo, splendid Bergara gifts, a mantra for all the other participants, a certificate of participation so as to be able to boast the title of BERGARA Official Fan.
Caccia Passione, Redolfi, Bergara and Delta are waiting for you in Umbria to live this magnificent and free experience. We remind you that the event will also be held in case of bad weather.
See you on Sunday 21 May 2023.