HUNTING SHOTGUNS: DESCRIPTION OF THE TECHNICAL CHARACTERISTICS OF THE STRIPED BARREL SPEARGUN
STRIPED BARREL HUNTING GUNS:
HUNTING RIFLE: BOLT ACTION RIFLE

Bolt action rifle
La bolt action rifle it is also defined in the Italian language "csimple manual repetition arabina with sliding cylindrical rotating shutter".
La bolt action it is a type of weapon that has always been very successful as it is suitable for all hunts that require a high degree of accuracy in shooting, both in mountain hunts and in foreign hunts for large animals. Another success factor is certainly given by the fact that these guns can chamber a remarkable quality of calibers.
The leading nations in the production of these weapons are Germany, Austria, the United States, Belgium, Great Britain and Finland, and more and more Italian companies are successfully venturing into the production of this type of rifle; it is important to remember companies such as Perugini & Visini, and Zoli.
The repetition mechanism that endows the bolt action rifles it has been used by all the armies of the world for its extreme simplicity, robustness to the elements that the infantryman has to face. The remarkable resistance to the axial stresses of the bolt action it allows to chamber very powerful ammunition, with long cases without the risk of jamming.
The rifle bolt action it is not too suitable for hunting dangerous animals as the rearmament to double the shot is slow especially with long cases and fear can do the rest.
In addition to the possibility of chambering very powerful cartridges the bolt action rifles they allow the use of very fast ammunition particularly suitable for long-distance tense shots. for this reason they are widely used in the mountains for shots of 200-250 meters.
Le bolt action they also have an affordable purchase price that often makes them preferable to kipplauf.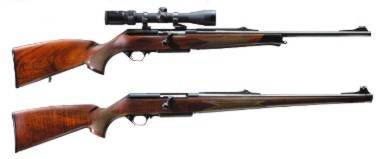 Precision bolt action rifles