| | | | | |
| --- | --- | --- | --- | --- |
| S | | N | | R |
PEPPOLA: Description
La
Brambling
belongs to the order Passeriformes, family Fringillidae, and has dimensions similar to those of the
Finch
, about 14-16 cm. In summer, the male has an entirely black head with bluish reflections, a dark back and an orange chest. The wing coverts at the junction of the body are bright orange (in the Finch they are bluish-gray), the flanks have irregular dark spots and the rump is white and evident in flight. The female of the
Brambling
it is more similar to that of Chaffinch, but it is distinguished by the white rump, the chest and the orange wing coverts. In winter, the male has a grayish brown head as well as the back, while the female has paler colors, especially the orange of the chest. There
Brambling
it has a similar but slightly more irregular flight than the Chaffinch, with which it forms large mixed flocks during migration and wintering. It feeds mainly on seeds, in summer it can supplement the diet with insects. There
Brambling
emits a sound and nasal call (scep scep), very particular, from which the common name derives.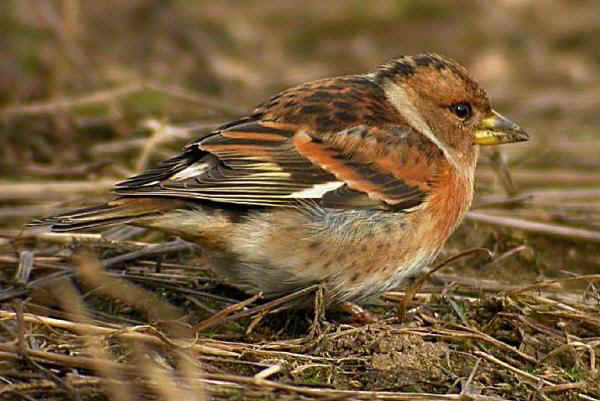 PEPPOLA: Habitat and distribution area
La Brambling it is a typical Finch of Northern Europe, it nests in the birch and conifer forests and in the mixed woods of the Scandinavian region, preferring areas with clearings without arboreal vegetation and avoiding too high and mature forests. There Brambling it frequents agricultural areas, where it finds adequate trophic resources. The distribution area ranges from the Scandinavian peninsula to the Siberian sub-arctic tundras but, due to the often very cold temperatures, the Brambling shows a low attachment to the reproductive site, widely moving the southern borders of the nesting area. The extent of the movements of this species is strongly influenced by the availability of food, which can cause local concentrations of large numbers of individuals (Macchio et. Al., 1999). In Italy the Brambling it is a regular migrant, winter visitor and irregular breeder, with the last nidification ascertained in Trentino in 1986. In winter it is a gregarious species, which gathers in common dormitories at times with enormous concentrations (Fornasari et al., 1992).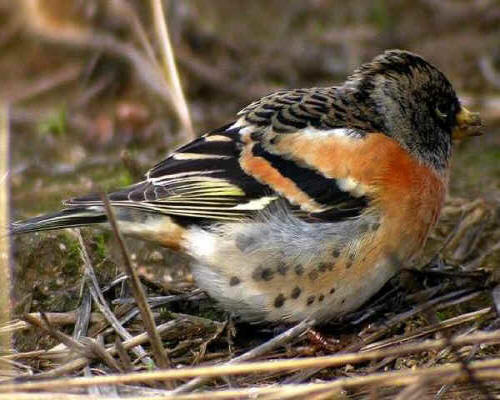 PEPPOLA: Population size and trend
Considering the highly variable reproductive success of this species, strongly linked to changes in the availability of trophic resources, a number of breeding pairs is estimated in Europe between 3,5 and 17 million. There Brambling however, it is considered a non-threatened and stable species, in Italy the annual fluctuations make the average assessment of the size of the wintering population somewhat imprecise.
PEPPOLA: Conservation and management
The species does not require particular conservation measures; in the wintering areas la
Brambling
it could benefit from the correct management of the native tall woods and from the maintenance of the stubble in the cultivated fields.