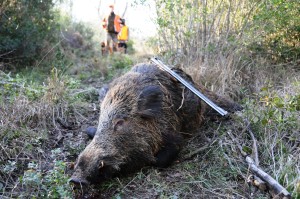 After the explicit request in Basilicata, Also in Umbria you are clamoring to step up the wild boar hunting. In the Lucan case, it was the CIA that came forward, in the central region, on the other hand, Coldiretti issued an official note asking for an extension of the end of the hunting activity, as it is now close to closing. In addition, the agricultural association has asked for rapid planning of the effective management and control interventions in protected areas competence.
Albano Agabiti, number one of the Umbrian section, sent a letter to Fernanda Cecchini, Regional Councilor for Agriculture, to point out the problem. In particular, the uncontrolled proliferation of ungulates is destined to increase with the stop to hunting, to the detriment of crops and sowing. The invasion creates millions of euros in damage to the sector, but it is a problem for the whole community, as is well demonstrated by the numerous road accidents.
Luca Panichi and Massimo Manni, presidents of the sections of Perugia and Terni of Coldiretti, also reiterated the urgency of more effective management. The numbers speak for themselves. As underlined by the association, in the last eleven years the wild boars have doubled in Italy, going from 600 thousand specimens (in 2005) to well a million. As for Umbria, they have almost tripled. The main risk in this case is the progressive abandonment of the countryside and mountain areas.