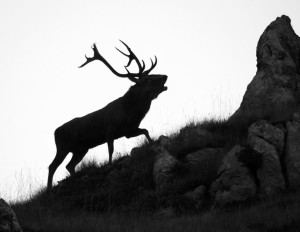 A curious news to say the least that came from Czech Republic this week and that has to do with hunting. According to local media reports, a deer would have managed to "steal" the rifle that a few moments before had been held firmly in the hand by a local hunter. The joke took place near Horni plana, in the southern part of the country. A group of hunters confronted the hound, but the latter attacked them in turn to defend.
In the agitated phases that can easily be imagined, the weapon of one of the men present would have remained entangled between the antlers of the animal, who immediately fled between the general bewilderment. As the Czech police pointed out, the deer was frightened by a dog before the attack and the "stolen" weapon, a 22 gauge carbine, was stripped of the belt before disappearing from the view of the joke participants.
There is a witness who has assured that he saw the deer a kilometer away from the scene of the crime and still with the gun caught. What happened was reported to the police, which could not help but launch an appeal and invite anyone tracing the rifle to contact the local authorities.