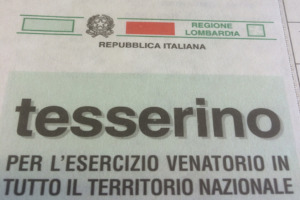 As disclosed by the Provincial Federcaccia of Brescia in its weekly column "Cacciapensieri", the recent modification of the Lombard regional law 26 of 1993 provided for the delivery of the hunting card by post and the address of residence of the hunters starting from 2019-2020 season. The association stressed the need to update the hunters' data band, primarily the addresses. This is why it was recommended to provide a copy of the tax code and to read the information on the processing of personal data.
The Lombardy Region has asked the hunters' associations, which normally collect the cards of their members, to collect this photocopy. FIDC Brescia knows that this bureaucratic task it is only the latest in a long series, as well as being difficult to understand, but this is the request and it must be respected. Here is how the note continues: "Until a few years ago in Brescia the card was sent home with an impeccable service. With the passage of the hunting delegation to the Region, the distribution took place through the municipalities that in the vast majority have always worked with great availability.
Over the years, however, some municipalities have paraded and the section presidents of these municipalities, armed with proxies, went back and forth with theRTU. Federcaccia Lombardia has insisted in recent years to bring the "Brescia model" to the Region and in the end, also thanks to the availability of the councilor Fabio Rolfi and the councilor Floriano Massardi we were able to obtain that the obligation to send the card to the hunter's home was put into law. We therefore make this last effort to enter modernity also in the distribution of badges ".