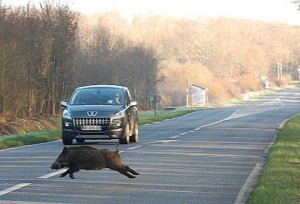 As a Federcaccia Piedmont we deem it appropriate to provide all Piedmontese citizens with correct information regarding problems, even serious ones, concerning road accidents which are increasingly occurring due to the crossing of wildlife, and in particular boars, on the motorway network and along all the communication routes of our Region. Beyond any theoretical consideration, research analysis of the why or wherefore, as Federcaccia we intend to bring to public attention the evidence of a phenomenon in progressive growth due to a currently exponential and uncontrollable proliferation of this species even with the means and tools of ecological containment and control and not adopted and currently permitted on the entire agro-forestry-pastoral territory of our Region.
The greater the presence today, and certainly even more in the future, is directly more likely that vehicles on the road could be accidentally involved in collisions, even with serious consequences. We therefore invite citizens, in particular young people as subjects most at risk for obvious reasons, to pay maximum attention to the problem and to considerably moderate the driving speed always on the extra-urban road network and motorway.
Particular caution must be taken in the next few days when the wild boar species will see the beginning of a natural collective cycle of reproductive frenzy with the occurrence of the inspiration of the female subjects, which will inevitably be the cause of greater movements and the possibility of meeting along the communication routes of specimens of both sexes. Therefore the call for caution and not to underestimate the problem is due to the Citizenship as an act of awareness aimed exclusively at the material and physical protection of all Piedmontese.