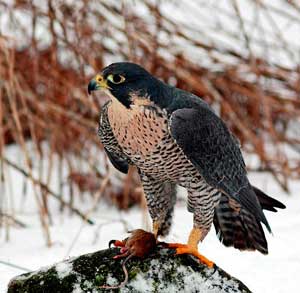 Hunting: It is not the prerogative of birds, yet some of them succeed particularly well. All thanks to long generations of experimenters and a benevolent nature that has given the birds great strength, precision and mastery.
After a long effort, today we too can fly, but let's face it clearly, birds do it so naturally that we will hardly be able to match them. Although not all species take flight, there are some particularly gifted ones on which it is inevitable to dwell. The best. No bird flies as well as birds of prey do and among these the first-class bow must necessarily be donated to Peregrine Falcon: it is an elegant and lethal creature, able to swoop down on its prey at speeds that do not differ that much from 250 kilometers per hour. Of course, a performance of this kind requires a considerable expenditure of energy: this is why they are constantly on the lookout for prey that they capture with surprising skill and intelligence.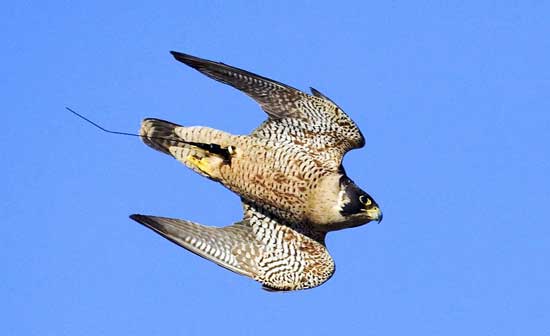 Another bird particularly capable in the art of flight is the woodcock: able to give the best of itself both over long and short distances, the woodcock is endowed with a powerful musculature that allows it, in flight, to perform any acrobatics. Particularly agile even in the thick of the woods, it is able to try its hand at sudden accelerations, very rapid swerves and unpredictable swings: hunters who dedicate themselves to capturing what has not been called the queen of the woods know this well.
Rather resistant, the swift he is able to cross 1000 kilometers a day, and he does not tire even when he is forced to fly for 14 hours. It seems to be able to rest at a high altitude, almost gliding in the sky. According to some, he even falls into a kind of sleep. Impossible not to mention the hummingbird which by maintaining a forward inclination of 30 - 45 degrees are able to remain suspended in the air in the same point or even recede, making evolutions that are precluded to any bird. At the second their flight technique, particularly tiring, allows them to beat their small wings 80 times.
The organs of flight. It is the aerodynamic characteristic of birds that allows them to fly: their body in fact offers little resistance to the air they encounter and their lightness together with the muscular capabilities are all elements capable of generating excellent, good and modest flyers. It is mainly the habits of life that determine a greater or lesser development of the organs that allow flight. In general, the art of flight developed in those birds that needed to escape, with a certain speed, from overly demanding predators. The head of a good flyer is commonly small and compact, the musculature that attaches to the rib cage is particularly strong so that the body, during the flight, can be well stiffened for ever more precise maneuvers. The wings and feathers are the true carrying organs of flight: allow not only the implementation of this art, but also allow to direct the flight with precision. Unlike what was believed, the tail is not exactly the rudder of birds, but it seems to be of fundamental importance during take-off and landing.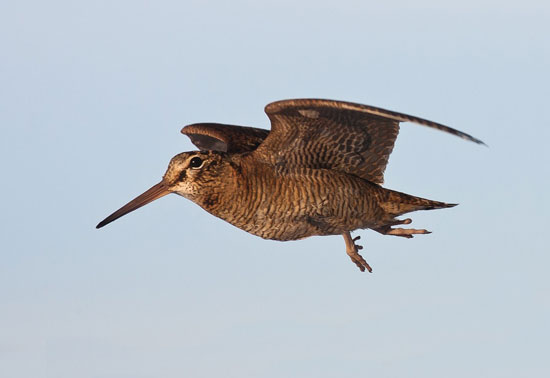 Particularly important during the flight are also the air bags: there are nine and they alternate with the organs present in the thoracic cavity. Not only are they indispensable for making the bird lighter, but they also prove to be excellent oxygen reservoirs to be exploited during the most strenuous flight maneuvers. In short, as with good planes, when everything is working and efficient, flights can be long and safe. Flight techniques. There are at least four of them, all of which are particularly interesting that the five-star hunter is well acquainted with.
Let's start with the gliding flight, which not only characterizes birds but also other species. Some species of rabbits are able to glide from one branch to another and there are even fish able to glide out of the water for as much as 180 meters. The energy consumption required by gliding flight is really negligible since the bird exploits only the force of gravity and speed. The gliding it is equally a rather relaxed type of flight, which requires little energy expenditure. The bird takes advantage of the ascending air currents and winds. Nevertheless, thanks to gliding it is possible to cover long distances. It is a type of flight commonly used by large falcon-like raptors such as theeagle, but also the vultures and meadow. Their wide and short wings allow for great curves and great maneuverability. Even the peregrine falcon is an excellent glider: the tranquility of this type of flight is able to replace in a very short time frighteningly rapid and lethal swoops for its prey. The static gliders are also associated with the dynamic gliders able to exploit the full potential of the different wind speeds at different altitudes on the sea. It is also important to remember that to practice gliding it is necessary to have relatively large wings; for this reason it is a flight technique that is rarely used by small birds.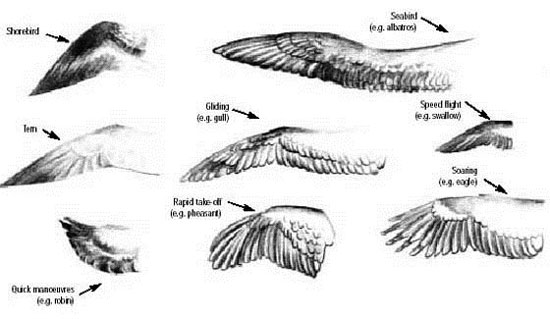 The technique of flying flight, also the most common among birds. It is a form of flight which, by heavily engaging the pectoral muscles, requires a serious expenditure of energy. It is no coincidence that this musculature in large flyers is particularly developed, together with the sternum, on which the musculature clings. It is also important to remember that flying flight requires a constant flapping of wings: rapid wing strokes follow more or less long flight phases during which the bird has narrow wings and advances thanks to the acquired acceleration force. Finally the buzzing flight it is used exclusively by the hummingbird, small and very agile. Its name is due to that characteristic buzz caused by the very fast flapping of wings.