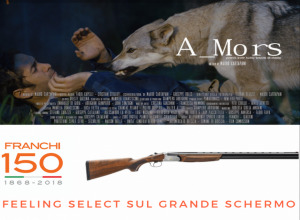 Franchi lands on the big screen. The company from Urbino will in fact be present at the cinema thanks to the superimposed Feeling Select, to be precise thanks to a film by Mauro Cartapani. The film is called "A_Mors" and was shot almost entirely in the province of Brescia, an area known precisely for its arms production. The plot is about a millionaire, Chris, who is the son of an entrepreneur and who goes too far with unbridled luxury. A very special hunting encounter, however, changes his life forever.
The first screening is scheduled for Saturday 13 October 2018, so there are very few days left and the Feeling Select rifle will be among the protagonists of this story. The cast includes names of established actors such as Christian Stelluti, Paolo Granci, Beatrice Gattai, Barbara Sirotti. The screening is scheduled at 19pm and 21pm at the Alpi Cinema in Temù, in the province of Brescia. Reserved for the eclectic hunter who wants an object that is unassailable from every point of view, including aesthetics, this over-and-under can be admired for the splendid birds engraved on the receiver, the golden trigger and the initial of the brand on the bridge.
The Feeling Select is available in 12 gauge, 20 gauge, 28 gauge and .410 gauge, has wide-spread automatic extractors and selective single trigger with safety and selector combined in a single command on the tail of the receiver. The barrels, assembled in one piece, are equipped with interchangeable internal chokes; they are hammered and chromed internally for better corrosion resistance.