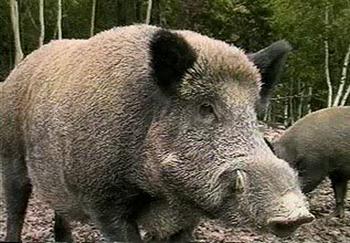 Hunting and Fauna. A day dedicated to the management of the Boar, conceived as a space for reflection and discussion "sheltered" from the pressures of the social and media context.
A day to "dismantle" the rich flowery anecdote about the species that recurs in the media and, not infrequently, becomes a management practice. A seminar morning, in which the evidence emerging from the updated analysis of the scientific literature on biology, ecology and management of the species will be illustrated by thematic sections.
An afternoon of a round table, in which the points of view of the various actors involved will follow one another until the opening of the final discussion with the aim of critically reflecting on the current management tools and "looking up" to outline the long-term prospects for the species.
It is the first event organized by the GLAMM - Group for Large Mammals Conservation and Management - Group for the conservation and management of large mammals, founded within the Italian Teriological Association with the aim of affirming the "evidence-based" approach and stimulating a cultural growth of the world of conservation and management of large mammals in Italy.
This is the program of the event:
SEMINAR (10: 00-13: 00) - "Synthetic materials for an updated and evidence-based knowledge of wild boar".
Moderators: Silvano Toso (former INFS Director, now ISPRA) and Stefano Grignolio (University of Sassari and GLAMM-ATIt Coordinator);
10.00 - 10.10 Greetings: Maria Luisa Bargossi (Emilia Romagna Region) and Adriano Martinoli (University of Insubria and President of ATIt);
10.15 - 10.30 Introduction of the day: Silvano Toso and Stefano Grignolio;
10.30 - 12.15 Scheduled interventions and coordinators of the expert group:
- Genetic status - Massimo Scandura (University of Sassari);
- Population estimation techniques - Simona Imperio (CNR IGG Pisa);
- Spatial behavior - Enrico Merli (Province of Piacenza);
- Health status and epidemiology - Nicola Ferrari (University of Milan);
- Impact on biodiversity - Laura Scillitani (Gran Sasso National Park - Monti della Laga);
- Wildlife and hunting management - Andrea Monaco (Lazio Region).
12.15 - 13.00 Questions and discussion
ROUND TABLE (14: 30-17: 15) - "A look beyond the emergency: the challenge of sustainable wild boar management in Italy".
Moderators: Piero Genovesi (ISPRA) and Lucilla Carnevali (ISPRA);
14.30 pm - 14.45 pm Introduction of the Round Table: Lucilla Carnevali
14.45 pm - 16.00 pm Scheduled interventions:
1. Marco Apollonio (University of Sassari);
2. Maria Luisa Zanni (Emilia Romagna Region);
3. Massimiliano Scotti (Gole della Rossa and Frasassi Regional Park);
4. Andrea Marsan (Wildlife Technician);
5. Annalisa Saccardo (Coldiretti);
6. Gian Luca Dall'Olio (Federcaccia);
7. Antonino Morabito (Legambiente).
16.00 - 17.00 Discussion and unscheduled interventions;
17.00 - 17.10 Conclusions of the Round Table: Piero Genovesi;
17.10 pm - 17.15 pm End of the day: Adriano Martinoli.
(December 1, 2015)
Hunting Federation