Hunting Dogs - Nutrition: The owner of a dog who knows the salient aspects of a correct diet of his faithful friend, can ensure the latter a balanced and healthy lifestyle.
During the winter season it becomes necessary to change the dog's diet, compared to the summer or spring periods. Low temperatures can be more effectively dealt with by the animal, if it receives the right energy intake from food. The correct nutrition of our four-legged friends is a determining factor for their health.
During the winter season the dog may need a more rigorous and careful diet, in order to help him to withstand low temperatures. In pet shops a wide range of foods are offered, each of which has its own specific function according to the needs of the dog. In fact, there are dry and wet feeds of the highest quality, which guarantee the animal everything it needs during growth and development, maintenance and advanced age.
Specifically, the dry feeds are of various types: those of the "puppy" type are intended for puppies, as they include a higher percentage of calcium, proteins and vitamins, the latter very useful substances to ensure complete and correct development of muscle mass and skeletal. The "premium" feeds, on the other hand, are rich in proteins (over 25%) and are recommended for dogs that perform intense physical activity (especially hunting dogs) and for lactating bitches; those of "regular" or "standard" type, which have a protein value between 22% and 25%), are suitable for dogs that perform medium or normal physical activity, and represent a maintenance for adult dogs ; finally, "light" type feeds (with a low protein content, less than 22%) are recommended for young but sedentary dogs, with weight problems and for older dogs.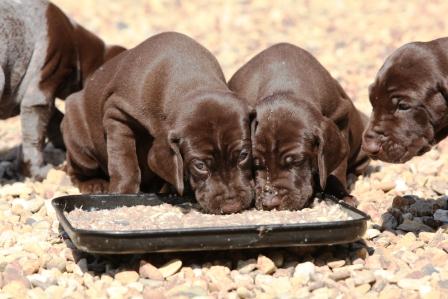 On the other hand, wet feeds (i.e. the so-called tins), are by far preferred by the dog, but have a higher percentage of water: for this reason, to reach the same energy values ​​of dry food, compared to the latter a quantity is required. double of wet feed; this corresponds to a significant increase in the costs of feeding the dog, especially for those of medium - large size. Apart from the costs, in any case, the correct doses of wet or dry feed guarantee perfect health of the dog.
Choosing the type of feed, however, is highly recommended by veterinarians to pay particular attention to the quality of food, since "palatable" foods from an economic point of view can correspond to foods with low energy values, which could cause health problems for the dog.
All feeds are based on something: chicken, lamb, rice, fish, venison, potatoes (just to name a few), with numerous combinations of the same. In spring and summer, some vets recommend fish-based foods, as fish does not increase the dog's body temperature too much during digestion. On the contrary, during the cold season, a food based on meat, both red and white, can represent an additional defense against the cold, since they contain higher percentages of calories.
Hunting dogs are used, in the vast majority of cases, to living outdoors and carrying out intense physical activity. For this reason, feeding the dog correctly means helping him to better tolerate low temperatures and the dispersion of body heat. Food represents the energy source from which every living being draws its defenses from the external environment, therefore choosing a correct food for the dog corresponds to a better defense from the cold.
Large and hard croquettes and biscuits help the dog develop the bite and keep tartar away; the small biscuits instead can be used as a reward during training. It should be remembered, however, that even these are food (a sort of out-of-meal meal), so you should never exceed the quantities. The buffalo skin bones perform the same function as hard biscuits, but are consumed more slowly and therefore have the purpose of keeping the dog busy for a long time.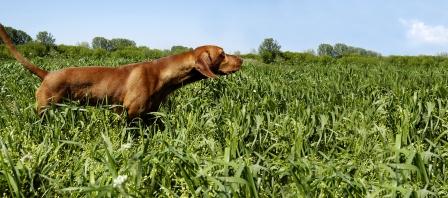 Apart from the feed on the market, if you have a lot of time available, each owner can prepare food for his dog himself. It should be emphasized that, no matter how hard we try to prepare balanced and energetic foods, it is difficult to obtain a complete ration at home like that guaranteed by industrial foods. However, if a dog owner does not want to turn to packaged foods, he will have to follow precise rules in the preparation and choice of food. A home-cooked meal should contain protein in the form of meat (white or red), plant-based carbohydrates in the form of vegetables, cereals, dry bread, pasta or rice. Meat proteins can be substituted once or twice a week by those from fish, eggs or low-fat cheese.
Let's now analyze, one by one, each ingredient that can be given to the dog, both in the form of packaged food and prepared at home. Let's start with meat, the basis of the dog's diet. Although it is very nutritious, it must necessarily be integrated with other foods. Too lean meat must be avoided and mixed pieces chosen. Ox meat is superior for its high content of iron and various minerals. Pork, both raw and cooked, is not recommended. If prepared at home, the meat must be boiled in water for at least two minutes before being given to the dog; to young specimens it is preferable to serve it chopped, while to adult ones in pieces. Fish is a good food that contains a lot of protein. It must never be served raw and must be entirely clean of thorns. The bones must be given to the dog from time to time, especially if a puppy, to encourage biting and cleaning of the teeth. Ox bones (in particular the knee) or calf bones are more suitable.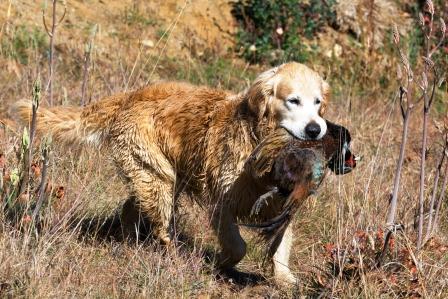 Milk can be given to puppies, as it contains a lot of calcium. Its digestibility, however, is difficult for most dogs who lose intestinal lactose after the first few weeks of life. The cheese, however, can be given to the dog as long as it is very lean: yogurt, for example, regulates the intestinal tract.
Chicken eggs are highly recommended both raw and cooked (once or twice a week), as long as the egg white is removed from the latter. Cereals represent, as for humans, one of the best components of the dog's daily ration, as they contain high percentages of proteins, vitamins, fats and minerals. Rice and pasta must be cooked, while corn, oat and rye flakes are easily digestible and provide a lot of calories. Vegetables contain many vitamins. Cooked carrots, in particular, are highly recommended in the dog's diet; during boiling, however, most of the vitamins contained in them are lost, so a pressure cooker is the best solution to preserve the latter. In vegetables the percentage of sugars is low, that of fats is zero and, consequently, they must represent 10-15% of the total diet. The vegetables to avoid, those with high concentrations of oxalic acid, are spinach, chard, chicory and lettuce, which largely fix calcium in the intestine making it difficult to absorb, with the consequence of predisposing the ' urinary tract to the appearance of stones. Seasonal fruit is all right, as long as the dog shows that he appreciates it.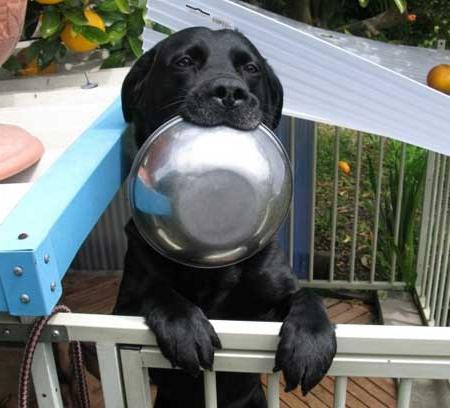 We have said what dogs should and can eat, but not what they should NOT eat. A quick list can give you an idea of ​​what to avoid in your diet: sweets, spices, spicy foods, alcohol, chocolate, avocado (the leaves, fruit, seeds and bark of avocado contain a substance, even, which is harmless to people but very toxic to animals, in which it can cause poisoning), coffee and caffeine, onions, garlic, chives, salt, grapes and raisins (a still unknown substance is present in grapes and raisins which can cause kidney failure in dogs). At the end of the article, we would like to give some advice: the first is to contact your trusted veterinarian for any clarification on the dog's diet. The second could be given to both dogs and humans: proper nutrition, the right movement and a healthy life are the best barriers and defenses against diseases and advancing age.