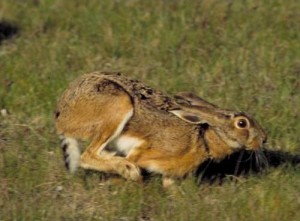 The project "Towards the sustainable hunting of the Italian hare (Lepus corsicanus) in Sicily: good practices and monitoring actions", promoted by the Hunting Federation, enter the second experimental hunting season. On 5 November, the Region of Sicily published the DA n. 97 / GAB of 30.10.2018, which modifies the 2018/19 Hunting Calendar and authorizes the experimental hunting of the Italian hare in specific Districts.
Thanks to the fundamental contribution of numerous volunteer hunters, specially trained and qualified, who at the end of the summer monitored the populations of Italian hare on sample night routes for a total of 318 km, this year it was possible to extend the project to other Territorial Areas of Hunting and to other provinces. Overall, ATCs PA2, AG1, AG2, CT1, CT2, SR1, SR2, ME1 and ME2 are currently affected. The condition of the Italian hare on the island is gradually improving, albeit at generally low levels, in fact, the Kilometric Abundance Index (IKA) went from 0 in 32, to 1997 in 0,34, to the current 2017. This is good news and bodes well for the possibility of further extending the project in 0,57.
The intent is to bring sustainable management of this endemic species to full capacity, potentially huntable in Sicily, but protected in the rest of Italy. The commitment of the numerous Sicilian hunters passionate about hare hunting is fundamental for the success of this project, also to collect the biological samples necessary to study in depth a game that has been neglected for too long from a scientific point of view. These hunters will be on the cutting edge, since they will use, together with the normal card, also the digital hunting card of X Hunt, an App loaded on their smartphone, which will allow them to geo-reference the killing in real time and will indicate the geographical limits of the districts where hunting for the Italian hare is allowed.