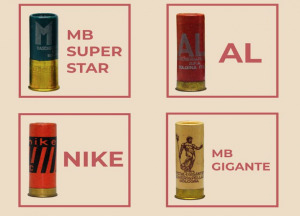 Baschieri & Pellagri has decided to advertise, on social networks and beyond, a survey to understand which of his historic cartridges it should be repurposed. As every year, in fact, the members of the Italian group were asked with what they would like to shoot again. Four were the most voted cartridges and we need to understand which will be the winner. In practice, it is sufficient to visit the Facebook page of the Bolognese company and choose the favorite with a simple comment.
What are these four alternatives? The first is there MB Super Star: the famous MB powder, in its two versions of degree of vivacity, loads all the models of this line. Then there is the AL cartridge, whose name derives from the powder with which it is loaded, the Lamellar Anigrina, conceived in the XNUMXs.
It continues with the Nike. In this case the product is particularly suitable for use in areas with a high percentage of relative humidity. The last but not least cartridge that you can choose and vote for online is the Baschieri & Pellagri MB Gigante: it is recommended for high quality hunting for medium distance shots, with black tempered lead shots, a pressure of to CE standards and a speed of up to 390 meters per second.