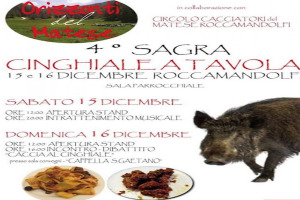 It is usually said that there is no two without three, but in the case of the Roccamandolfi festival there is no three without four. There are in fact four editions of this important Molise gastronomic event, whose full name is "Wild boar festival at the table". The 2018 edition will see the small town in province of Isernia thanks to the organization of the association "Orizzonti del Matese Roccamandolfi" and "Il Circolo Cacciatori del Matese Roccamandolfi".
On Saturday 15 and Sunday 16 December the Pellegrino Room will host the participants with a really rich programor. On Saturday, in particular, the stands will remain open from 12 to 14 and from 19 to 23 with a musical evening starting at 20. Sunday 16 there will be the same times for what concerns the stands, in addition to the important conference dedicated to wild boar hunting at the Conference Hall in Via Roma.
The debate is extremely topical given that ungulates represent an increasingly worrying danger and their approach to inhabited centers does not make you sleep peacefully. The ambitious and understandable goal of the organizers is to improve results important achievements in the third and last edition and then project into the future and also think about the fifth.