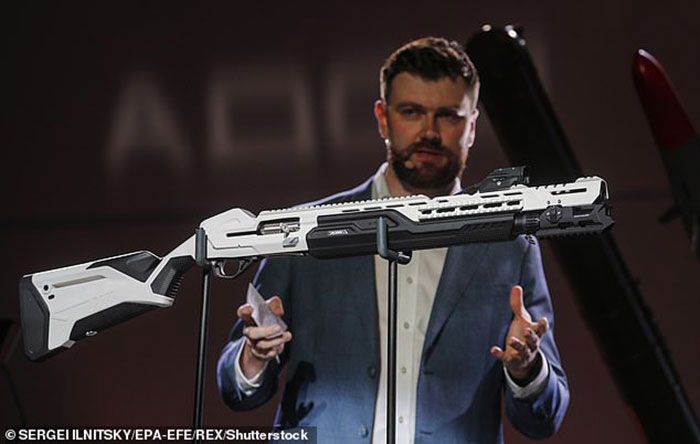 The historic Russian company Kalashnikov, manufacturer of the famous AK47 assault rifle, introduces itself to the market with the first "smart" rifle, model "MP-155", Equipped with a computer integrated into the stock - with a small screen, Wi-Fi and Bluetooth - and a video camera positioned on the barrel that functions as a action cam. The interface with the commands of the computer installed in the new "MP-155 Ultima" is intuitive and very similar to the menu of the most common video devices.
"It is the first weapon gadgets. The task is to attract that part of the young audience that was born with the gadgets and he can't imagine himself without them… ..I would like to involve… hipsters, generation Z, "'Kalashnikov director Dmitry Tarasov said in an interview with the business newspaper RBK.
A particular product, suitable more for shooters who approach hunting rifles, than for expert ones for whom all the gadgets that characterize this rifle would be an impediment.
The functions of the smart gun "MP-155"
Video recordings: can transmit in real time, via link
nto Wi-Fi, to one smartphone (both with IOS and Android software). The display can function as a viewfinder, which is displayed directly on the screen.
Integrated timer to record the number of shots fired and hit, the time and rate of fire and the total number of targets hit.
Built-in compass
GPS indicating the position of the weapon
When the battery that manages the various functions runs out, it can be recharged via the USB port on the side (which can also be used to transfer data to a computer) Kalashnikov.
Technical detail:

Semi-automatic shotgun with 12/76 caliber smoothbore
Total length: 1014 mm
The length of the gun barrel is 71 centimeters. 510 mm
Material: mainly 7075 aluminum, recyclable.
Weight: 4,2 kg
Tank capacity: 6 + 1
The price in Russia is set at around $ 1.200.