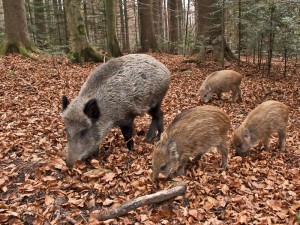 The 2015-2016 hunting season has now reached its end and the Hunt Abolition League (LAC) she said she was confident that an experiment that has been talked about a lot in recent days could affect the future of hunting in our country, especially that with wild boar, a topic that is causing discussion. This is the contraceptive pill tested in the Maremma Regional Park, a novelty that should concern the ungulates present in the protected area.
This drug was discovered by an Italian researcher, Giovanna Massei, and the test results would be encouraging. Wanting to be even more precise, the pill is taken by wild boars along with the food they normally eat, through dispensers located in some areas of the park. The LAC underlined the researchers' belief in the drastic reduction in reproduction of this animal, a population decline that could convince other protected areas.
Furthermore, in the note from the League, reference is made to the possible advantages for the agricultural sector and road safety, with the consequent abolition of the practice of hunting, which would no longer make sense. The increase of wild boars in Italy is a fact, taking into account the reproduction of these animals (according to the LAC, the hunting pressure meant that it was repeated several times in the space of a single year) with exponential growth and without control. The birth control pill is therefore called a "Decisive test bed", in particular for politicians and local administrators, also because they will have to assume responsibilities based on the decisions taken.
According to the League, it is necessary to understand whether to be on the side of farmers and ordinary citizens or on that of hunters. The press release also notes how the experimentation could make it clear whether the wild boar hunt practiced so far in our country has been really necessary for the containment of the wild population or whether it was one of the main reasons for the proliferation, to the (economic) advantage of the hunters. The LAC specifically asked the Marche region to test the drug as soon as possible.
We are talking about one experimentation within the National Park of the Sibillini Mountains and in the Regional Parks of Frasassi and Gola della Rossa and Conero: in practice, the note refers to the protected areas in which the selection hunt for wild boar has been practiced for several years. The discussion on the management of ungulates it is therefore enriched with a new starting point and there will certainly be replies from the trade associations called into question.