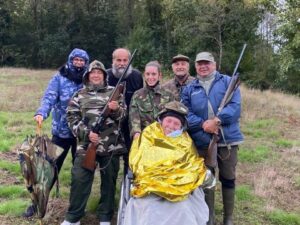 Really exciting the story of Mauro, a hunter in poor health but with a boundless desire for go hunting again. Here's how the Honorable Member summed it up Barbara Mazzali: "Mauro was a hunter. No. Mauro is a hunter, he still is, despite the disease and despite the fact that he can no longer go hunting as he has done all his life. But who we are in the depths of the soul does not change when the physical gives in. I read his story on the internet this morning and I was very impressed. Mauro had a desire: he wanted to participate in a hunting trip again, he wanted to go back to his woods, he wanted to smell the trees and animals, he wanted to share his passion with his friends and relive it once again in first person.
Unfortunately, his health is serious and he is unable to walk. But that didn't stop him either. Mauro dressed as he used to do, as in a ritual that is handed down from father to son, and his fellow adventures have taken him once again with them on a hunting trip. They used an ambulance and pushed him into a wheelchair and managed to give him a day in the woods.
Dear hunter friends, when they tell us that hunting is a superfluous hobby, we know that they have not understood anything. Hunting is a deep love for the territory and for nature, it is friendship, it is passion, it is a ritual of gestures and traditions. And Mauro reminded us: his greatest dream in such a difficult moment of his life was to go back hunting and he made it come true ".