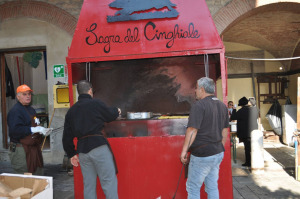 The last Sunday of the Suvereto Wild Boar Festival (Livorno) can only be special. There fifty-first edition it began on November 25th and will end on December 9th. The appointment in this truly fascinating medieval village is a historical tradition and the related events are of all kinds. The main objective is to enhance the local gastronomic products, primarily the delicacies based on wild boar meat. The historical parade along the city streets will enrich the program, a tradition revived in the seventies.
The real symbol of the Tuscan festival is undoubtedly the Grande Cappa: the grill will be used to cook and appreciate the excellent culinary specialties based on ungulate meat. The mouthwatering menu includes wild boar steak, la rostinciana (or rosticciana) which is prepared with ribs flavored with various spices distributed on the meat before or after cooking and roasted polenta.
Last year the participants were very numerous, without forgetting the over 500 kilos of wild boar meat cooked and served, able to satisfy even the most demanding palates. In addition to the gastronomic aspect, this event has been and will still be essential to encourage tourism, sport, music and crafts local.