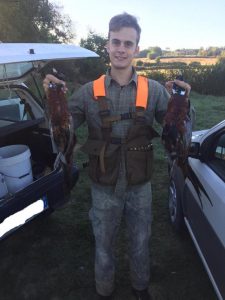 This day was very beautiful and exciting for me, because it was my first experience of pheasant hunting. My father and I decided to start from a small wood that is located a few kilometers from our house, but having left very early, we decided to stop on the main road waiting for the sun to rise.
As soon as it arose we walked towards the chosen place and, shortly after entering the woods, the dog begins to feel something. So we got ready and in fact, shortly after, a magnificent male pheasant rose above the trees together with a female, so we decided to let go of the female and then to cut down the male. When this male flew into the woods I managed to catch a glimpse of him and with a modest shot to shoot him down.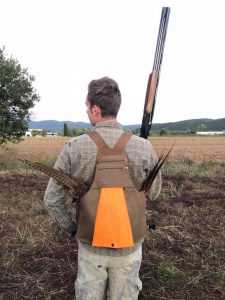 So I called my dog ​​to have my prey brought back and, immediately after, I praised him for the wonderful job he did. So I decide to start again and, after having traveled a long way, the dog he heard something in a hidden and dirty spot in the woods, so we got ready for the eventual prey and that was it.
After making a magnificent episode, the dog raised another male pheasant for me and I managed to shoot him down with a second shot and, immediately after bringing the animal back to me, I once again praised him. So ended my day of pheasant hunting in which I had a lot of fun and in which I took home two beautiful pheasants, thanks also to the help of my dog.
LITERARY COMPETITION #OBJECTIVE HUNTING PASSION

Opera competing for the literary category.

Jacopo Corsini
Increase your chances of winning. Vote, Share on Facebook and Instagram and get your friends to vote.