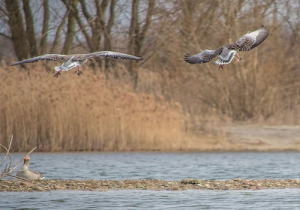 La Italian Federation of Hunting turned the spotlight on pre-nuptial migration and on the role of the hunting world for the various species even when the activity is closed. Here is what the association wrote about it: "Le permanent wetlands recreated by hunters play an important role for waterfowl even during the closed hunting period.
Two interesting videos, one from the province of Bergamo shot by Guerino Morselli in a recreated wetland, and another from a hunting lake in Lazio, demonstrate how useful these environments are for the stop and feeding of aquatic migrants during the pre-nuptial migration, which is in full swing in March. Both lakes have been recreated on areas where there were no suitable habitats and are subject to continuous maintenance and management at the expense of hunters.
A further demonstration of the overall positive effect on biodiversity made by the hunting world. In the video by Guerino Morselli you can admire the garganeys, with close-up shots that also allow you to listen to its song, while in the second video we see lapwings, wigeons and garganeys in flight and parked on the water. All hunters who have videos of similar situations can send the files to: [email protected]".