THRUSH
(Turdus iliacus)
| | | | | |
| --- | --- | --- | --- | --- |
| S | | N | | R |
Sassello Thrush: Description.
Il
Sassello Thrush
belongs to the order Passeriformes, to the Turdidae family; the
Redwing
is the smallest of the
thrushes
common, measuring approximately 20 cm. It is very similar to the
Song Thrush
in the plumage of the upper parts, brown-gray, while below it has blackish brown streaks and no speckling as in the bottaccio. Unmistakable features of the
Redwing
are the flanks and the underwing of a bright brown color, which stand out even when the bird is in flight, and the very pronounced cream-colored eyebrow. The beak is robust, orange with a dark end; the paws, as in the bottaccio, pale pink. The
Redwing
it has gregarious habits, and it can be seen while it crosses the countryside with the Cesene, in winter. It is a nocturnal migrant, and the call consists of a sweeter and longer "zip" than that of the
Song Thrush.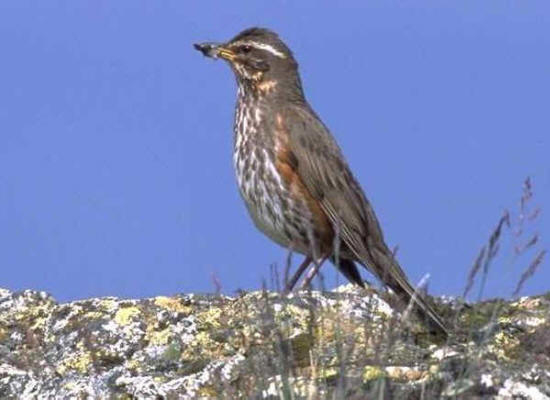 Sassello Thrush: Habitat and distribution range.
Il Redwing it nests in Northern Europe, in the subarctic and arctic areas, and has recently colonized Great Britain. Occasional nesting of Redwing they are registered in Belgium, Germany, Denmark and northern Italy. The nesting habitat of the Redwing it is made up of mixed woodland areas with birch, pine and juniper, but it pushes itself to nest beyond the limit of the arboreal vegetation, on the ground. In Italy, where it is mainly wintering, the Redwing it frequents the woods of conifers and broad-leaved trees, the chestnut groves, the wooded countryside and the coppices on the edges of the cultivated fields. The greatest presences are recorded in Lombardy and Emilia Romagna (Fornasari et al., 1992). The Mediterranean and continental areas of Europe make up over 50% of the wintering area of Redwing, in particular Spain, Portugal, England, Italy and the Czech Republic host 90% of the wintering contingent in Europe. Fewer individuals winter in Maghreb countries (Tucker & Heath, 1994).
Tordo Sassello: Population size and trend.
The reproductive pairs of the Sassello Thrush in Europe they are estimated at between 3,7 and 8,2 million, and it is considered a stable species. In Italy the size of the wintering population is not well known, and subject to strong seasonal fluctuations mainly due to climatic factors on a continental scale.
Tordo Sassello: Conservation and management.
The species of the
Sassello Thrush
has a good state of conservation, and although most of the wintering area is in Europe, there is not enough data to show which are the preferential characteristics of the territories that host the
Redwing
during the winter. In Italy the species does not require conservation interventions.