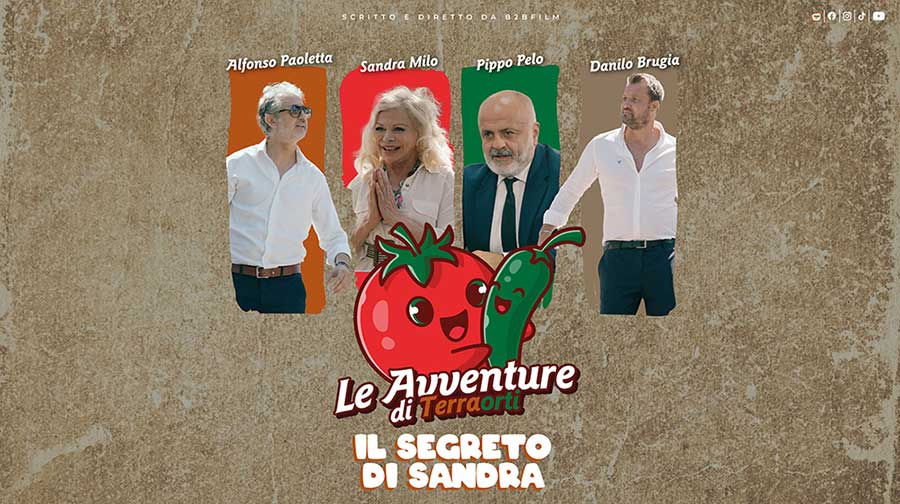 The project continues "The adventures of Terra Orti" with the aim of promoting and enhancing the best of Italian fruit and vegetables. The saga has reached its fourth edition, revealing "the secret of Sandra", a splendid and vital ninety-year-old. "The magic for eternal youth is not a question of potion, it is love, honesty, loyalty, sincere bonds, good food. A healthy diet based on fruit and vegetables is certainly one of the cornerstones for living better and longer!" Sandra Milo.
The historic legend of Italian cinema Sandra Milo, protagonist of the web series, tells her simple secret. The series, produced by the cooperative company, can be enjoyed entirely on social channels and on the Terra Orti video portal.
Written and directed by Alfonso Paoletta of B2BFILM, the 2023 edition web series is enriched by the actor's participation Danilo Brugia and the important contribution of the radio host Pippo Pelo.
"Sandra's Secret" will receive on September 24th at Sezze Film Festival the prize like best web series of 2023.
"We are happy to reap great satisfaction with our choices, which are sometimes original and courageous- commented Alfonso Esposito, President of Terra Orti -Enhancing a healthy and virtuous lifestyle is increasingly a priority mission for us. It is essential to take every opportunity to talk about the importance of eating well and pursuing well-being every day in different ways and channels"
Watch the fourth edition of the Terra Orti web series on the Video Portal www.terraortitv.it