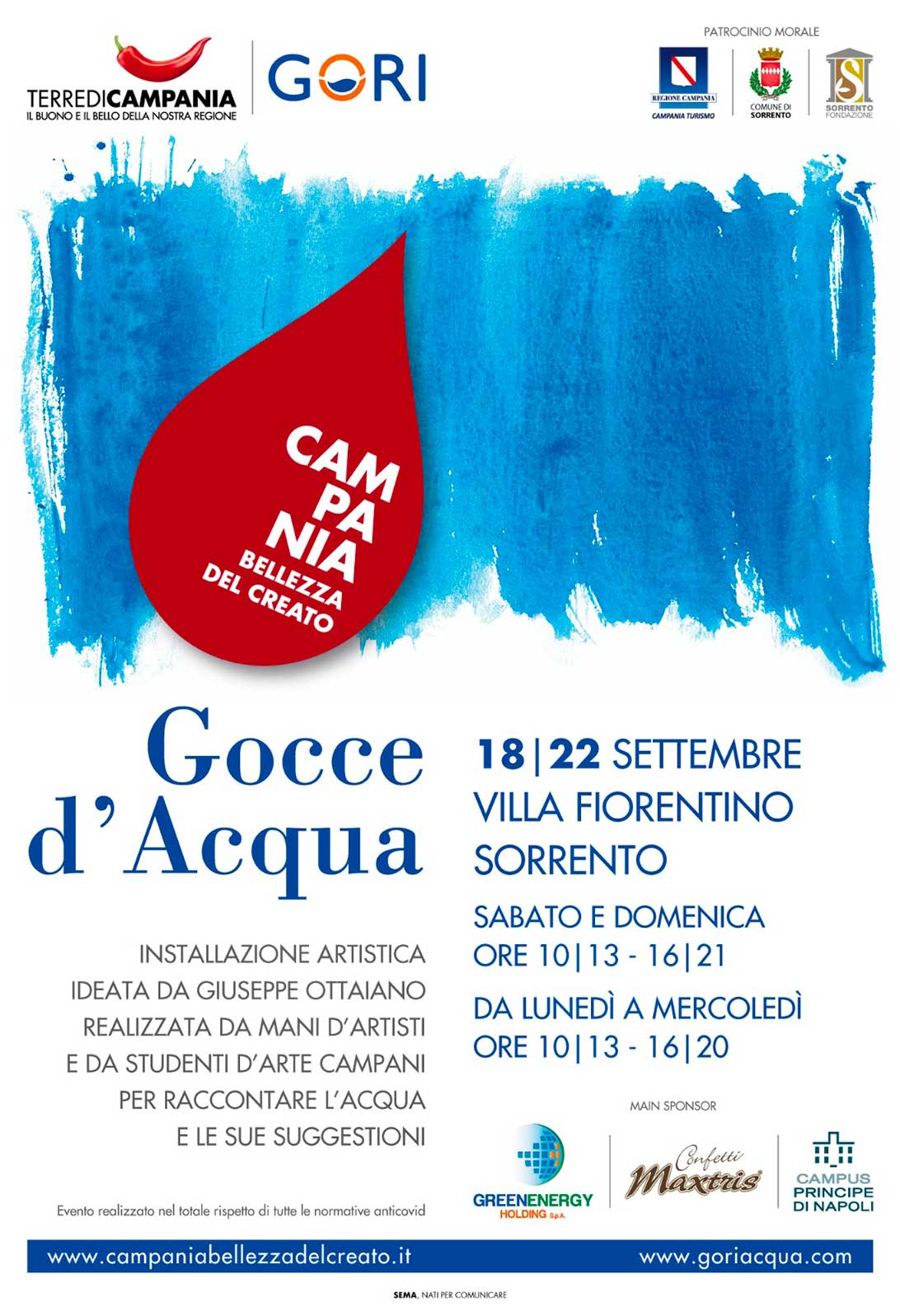 From 18 to 22 September 2021 the art collective promoted by the Terre di Campania Association will be hosted at Villa Fiorentino, one of the jewels of Sorrento. The exhibition will be open from 10:00 to 13:00 and from 16:00 to 20:00 and on Saturdays and Sundays until 21:00.
207 works on display at Villa Fiorentino, headquarters of the Sorrento Foundation, created to be a place open to the public for cultural and tourist initiatives, the first location to host the live installation created to raise awareness, through art, of the related heritage to one of the elements that distinguishes the Campania region but which has too often been not adequately exploited: water.
Conceived by Giuseppe Ottaiano, creative owner of the historic SEMA Communication Agency, the artistic installation saw the participation, in its realization, of over 55 artists and 100 students from seven art institutes in the Campania region.
Conceived in 2020, due to the restrictions imposed by the pandemic events by COIVD-19, "Gocce d'Acqua" has become the protagonist of a virtual tour that has touched some of the most important cultural sites in the Campania region: the Guevara castle in Savignano Irpino, the Paleochristian Basilicas of Cimitile, the Convent of San Francesco in Sorrento, the Basilica of San Francesco da Paola in Piazza Plebiscito in Naples, the Collegiate Church of San Pietro Apostolo in Santa Maria Maggiore in Somma Vesuviana, Villa Campolieto in Ercolano on the occasion of the world day of the water on March 22, the Cathedral of San Michele Arcangelo in Casertavecchia and the Paleochristian Baptistery of Nocera Superiore.
Now, finally live, the City of Sorrento, which due to its history and extraordinary geographical position retains a peculiar relationship with the water element, will host the artistic installation, giving a wider scope to the initiative.
Saturday 18 September there will be the vernissage of the artistic installation "Gocce d'Acqua", at 18:00., While the finissage is scheduled for Wednesday 22 at 18:00, with the presence, among others, of Mauro Giancaspro , well-known Neapolitan writer and bibliomaniac, who presented the volume Terra d'Acque, dedicated to the water resources of our Campania .
The initiative is carried out in collaboration with GORI spa, a company that manages the integrated water service in 74 municipalities in Campania, and is sponsored by the Campania Tourism Regional Agency, the City of Sorrento and the Sorrento Foundation.
It also benefits from the private support of GreenEnergy Holding, Confetti Maxtris and Campus Principe di Napoli. "Gocce d'Acqua" is part of the cultural container "Campania, beauty of creation", a project for the enhancement and dissemination of knowledge of the cultural, naturalistic and anthropological heritage of our region, created to develop education for its protection and again curated by Giuseppe Ottaiano. The project also includes "Terra d'Acque", a predominantly photographic volume, entirely dedicated to water in its various forms.
For information: www.campaniabellezzadelcreato.it