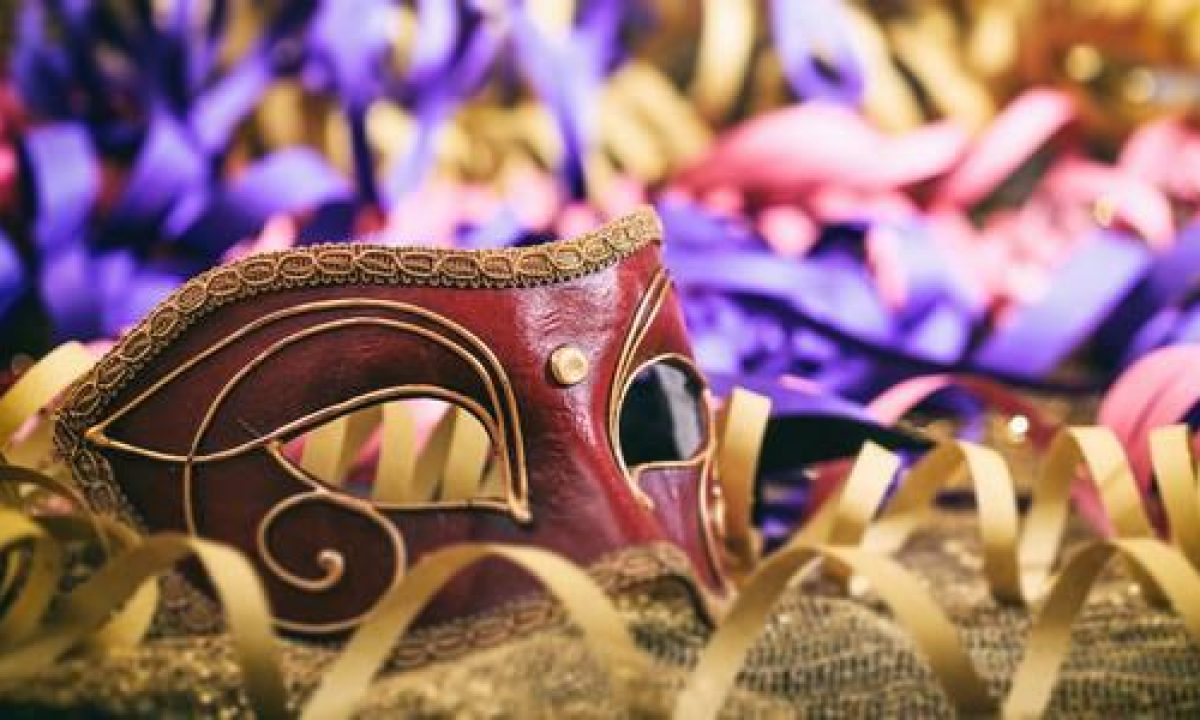 These days, to think that between prohibitions, limitations, difficulties in seeing friends and acquaintances, restaurants closed or almost, we are also approaching Lent, a period of penance and contrition par excellence, is frankly a bit strange. One would say that, while not wanting to embrace epicurean ideals of life, it is not even the case of wanting to really insist on hurting oneself. However things may be, we must also consider that Carnival comes before Lent and this can be a good opportunity for the "strange couple" of Sommeliers to join forces to recommend combinations that are actually more gluttonous than that is difficult.
Because this time we throw ourselves on the typical sweets of this period and, consequently, on a series of sweet wines that we recommend you enjoy together with your loved ones, grateful for the beautiful moments that life can give us even in critical situations. And let's start with our carnival proposals, not before a necessary clarification: all the combinations proposed are strictly regional except ... one, for which we allowed ourselves to cross over a few kilometers: the sweet wine we propose is a real gem and not we could have refrained from introducing it to you.
PIEDMONT: Friceu with Moscato d'Asti DOCG. Friceu are sweet pancakes to which raisins are added, then flavored with lemon zest and finally sprinkled with sugar. As for Moscato d'Asti, which we have already encountered in the combinations proposed for the Christmas and Christmas Eve menus, it is the inseparable companion of leavened desserts and dry pastries, as well as lending itself to numerous other combinations. That of the cellar Ca 'del Baio it is a simple and direct joy both for the nose of yellow fruit, white flowers, sage and musk, as well as for the mouth, where it is delicately sweet, fresh and fragrant.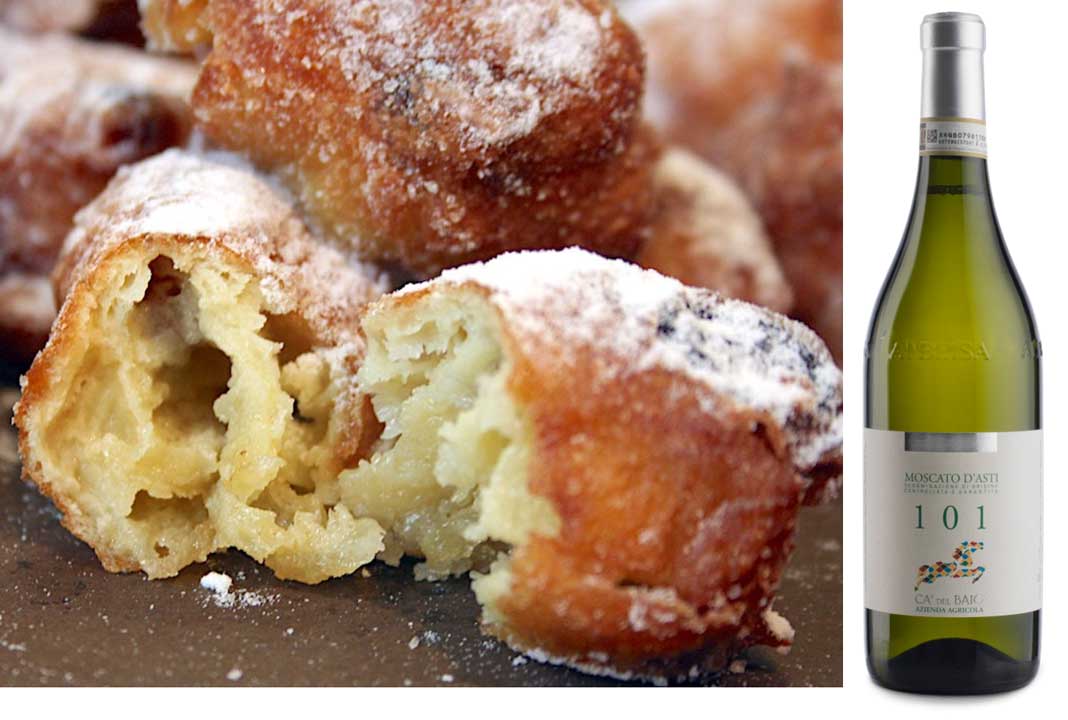 LOMBARDY / EMILIA: Tortelli with Vin Santo from Vigoleno. The first are sweet, round and leavened pancakes, filled with custard or chocolate. The second is a wine produced in very small quantities in Vigoleno (if you can do not miss to visit it), a medieval village located between the Val d'Ongina and Val Stirone, in the province of Piacenza. It is a wine obtained, according to production regulations, from grapes dried on plants and racks of the Marsanne and / or Bervedino and / or Sauvignon and / or Trebbiano Romagnolo and / or Ortrugo varieties for at least 60%, but producers prefer to use native varieties like Santa Maria and Melara. The color ranges from golden to more or less intense amber, the nose is intense, aromatic and characteristic, in the mouth it is sweet, harmonious, full, full-bodied and velvety. As an indication for orientation we point out that ofAlberto Lusignani Farm, of Vernasca, in the province of Piacenza.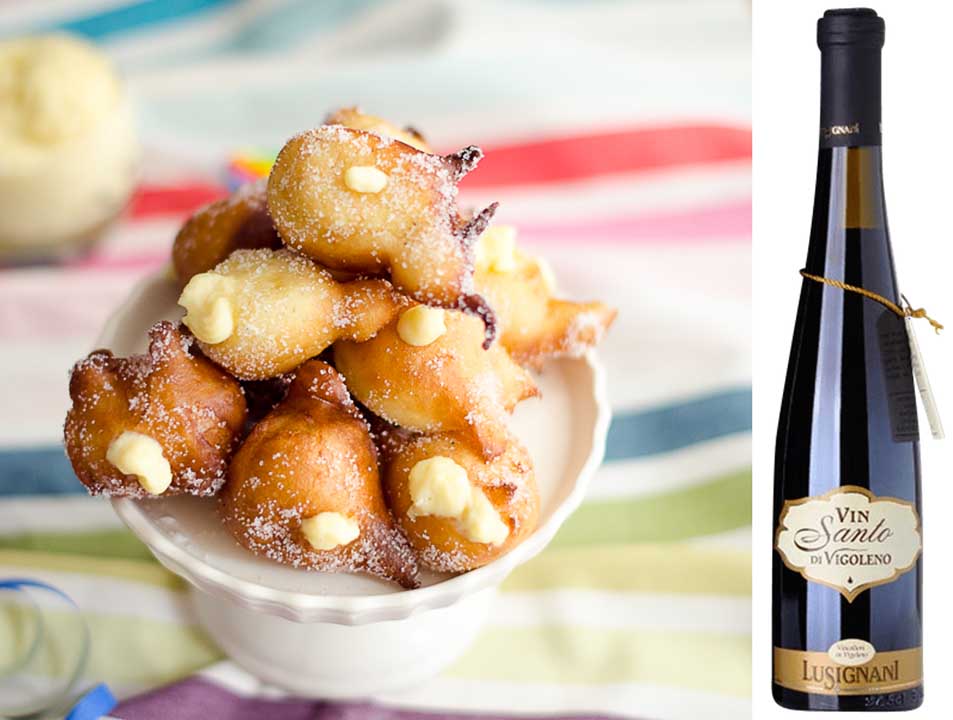 TRENTINO ALTO ADIGE: Apple pancakes with Gewurztraminer passito. The apple slices are macerated in lemon, grappa or liqueur, dipped in a flour-based batter, then fried, dried and sprinkled with powdered sugar. Gewurztraminer is a vine that, in purity, has long conquered the palates of many enthusiasts who actually combine it by the way and, in some cases, inappropriately, thanks to its aromaticity, the richness and variety of the aromas, its easy and intriguing taste. We point out the "Cashmere"of Elena Walch, a wine for special occasions: intense nose of dried and candied fruit, caramel and citrus. Wine of great persistence, material, with a pleasant sweetness perfectly balanced by acidity and a light sapidity.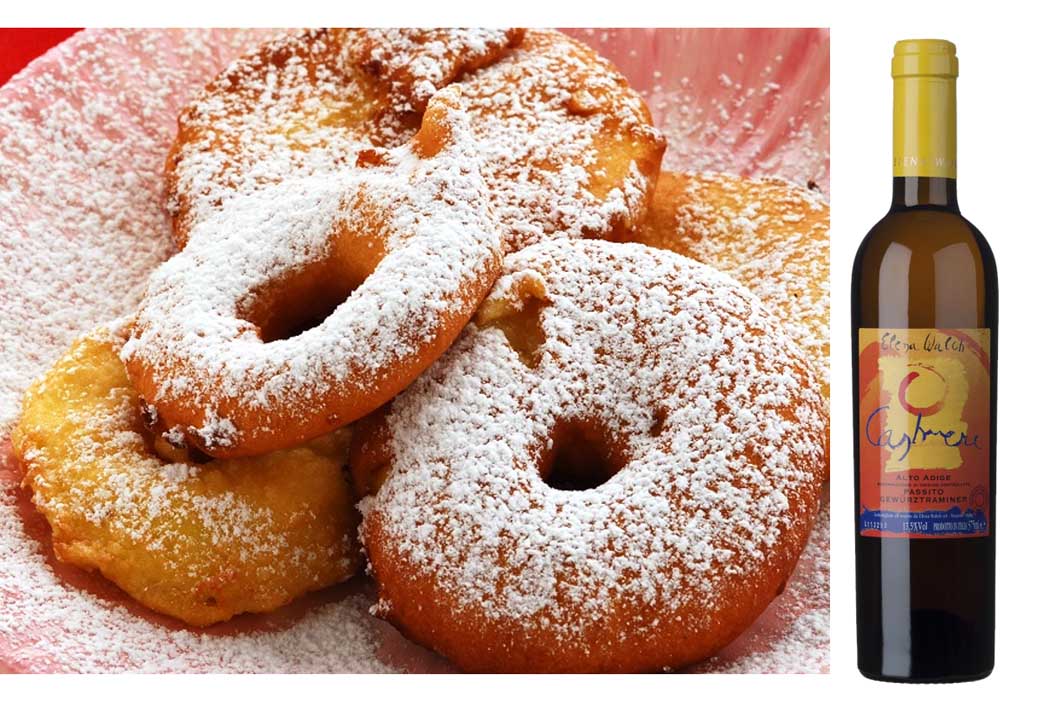 UMBRIA: Crescionda Spoletina e Montefalco Sagrantino Passito. La Crescionda is a baked cake made with milk, macaroons and chocolate. The result is a dessert with a creamy middle layer. Sagrantino, the main grape and wine of the Montefalco area, in Umbria, is produced exclusively, as well as in the municipality that gives it its name, in the municipalities of Bevagna, Castel Ritaldi, Giano dell'Umbria and Gualdo Cattaneo. The passita version, which historically preceded the dry version by far, is of an intense ruby ​​color with violet reflections and tends to garnet with aging. The nose is intense and complex, with accents of red and black fruits, floral notes and nuances of vanilla, tobacco and cocoa. In the mouth it highlights a perfect balance between softness and acid-tannic structure. We propose that of a young emerging producer, Devis Romanelli, ofRomanelli Farm.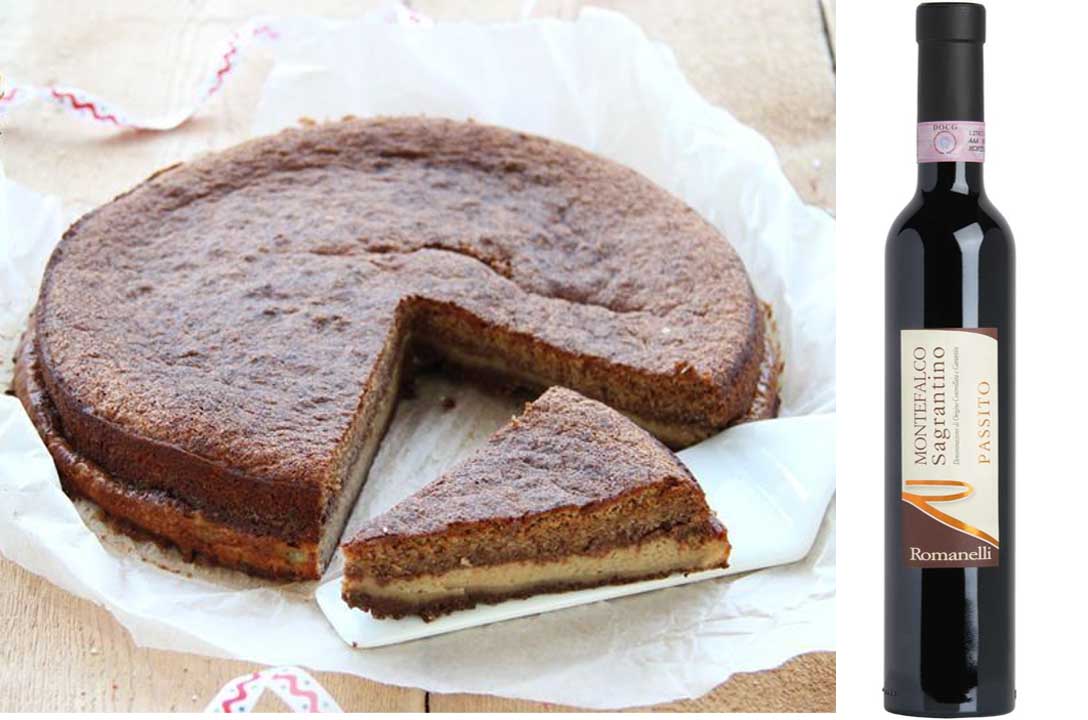 TUSCANY: cenci together with a chalice of Vin Santo of Carmignano. The Cenci gather all those Carnival sweets that we find in every Italian region, taking on the different names of chiacchiere, frappe, crostoli, bugie and galane. A dough obtained with flour, butter, sugar, eggs and an alcoholic component, such as grappa, marsala, sambuca or maraschino and cut into strips, which are then fried and covered with powdered sugar. Vin Santo di Carmignano is the result of an ancient local tradition, obtained following a recipe handed down from generation to generation, just like it does Capezzana estate. Its Vin Santo is produced in limited quantities, using the best and ripest bunches of Trebbiano and San Colombano, which, after the harvest, are dried until February. The must is then cold fermented during the winter months in the characteristic kegs (small oak, chestnut and cherry barrels), where it remains for 5-6 years before being bottled. With an intense golden yellow color, it is an explosion of aromas reminiscent of orange peel and candied apricots, which we also find in the sip, complex, rich and persistent.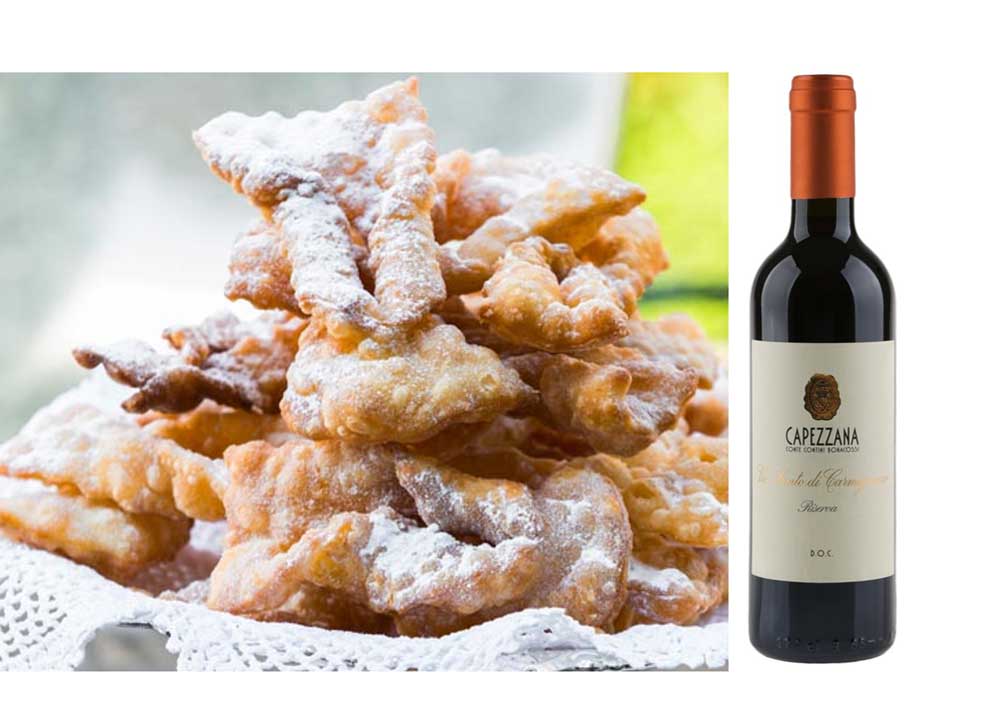 CAMPANIA: Migliaccio combined with a Passito Costa d'Amalfi. With very ancient origins, Migliaccio, also considered the poor version of the sfogliatella (of which it recalls the filling) is a dessert made with semolina and ricotta, which pervades the home with its intense fragrance of lemons and oranges. Our pairing proposal takes us to the Amalfi Coast with the "Passion"The Giuseppe Apicella Cellars, passito wine obtained from the native grapes of this territory such as Falanghina, Biancolella, Ginestra and Pepella. On the nose, notes of honey, candied fruit and dried figs are perceived with a smoky touch, while on the palate it is soft, fresh and not cloying.
PUGLIA: Cartellate e Natural Sweet Primitive. With their characteristic crown shape, Cartellate are prepared with a crazy wine-based pasta and cooked in the oven, or fried, and then dipped in vincotto or fig must. We drink on the Madrigal, the Primitivo Dolce Naturale dei Manduria producers. With ruby ​​red tones with purple hues, this wine brings the sun and the heat of Puglia into the glass, which are expressed with notes of marasca cherry and red fruits, spices and references to the Mediterranean scrub. Balanced and intense, it envelops the mouth with its silky tannins and its softness.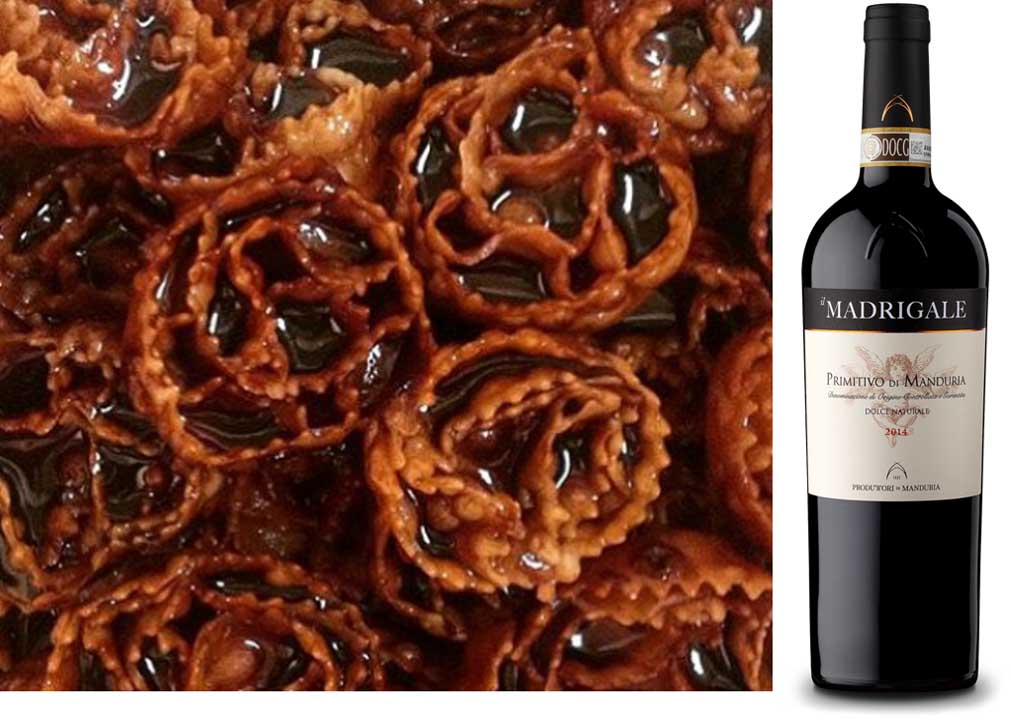 SICILY: Fussy e Malvasia delle Lipari. La Pignolata is nothing more than fried dough balls, reminiscent of Neapolitan struffoli, covered with honey and cinnamon, or with lemon or chocolate icing and decorated with colored sugars. To accompany this dessert the Malvasia delle Lipari di Castellaro estate. Obtained from Malvasia and Corinto Nero grapes, left to dry in the Aeolian sun for about fifteen days, this nectar enchants for its good freshness and minerality, combined with a complex bouquet of aromas ranging from dried fruit to candied citrus peel, from honey to the hints of herbs from the Mediterranean scrub.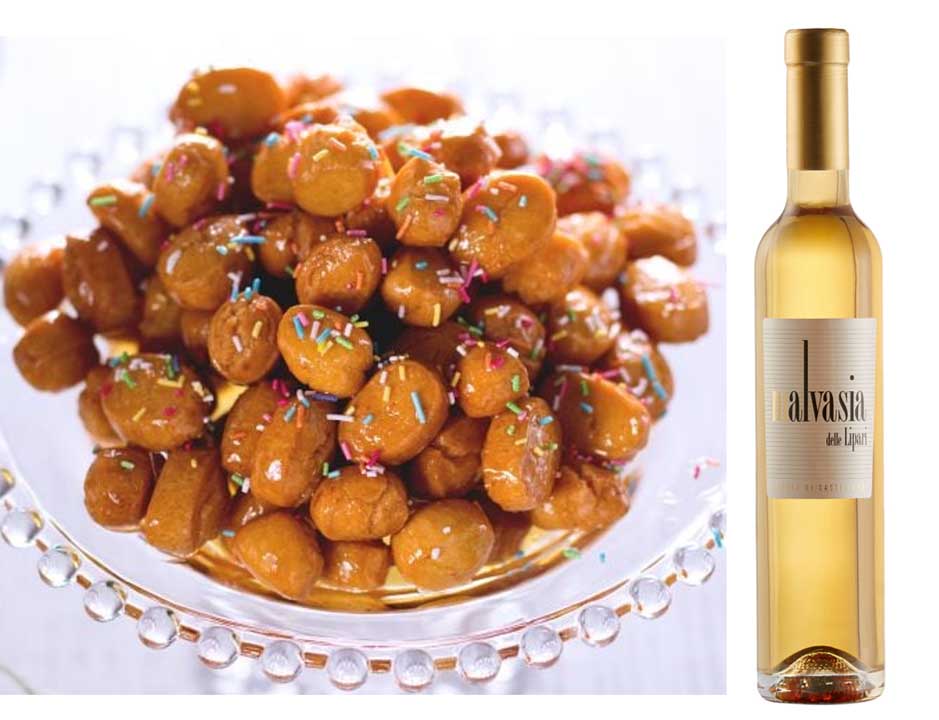 Our goliardic excursus among the carnival sweets ends here, but we guarantee you that we could have continued indefinitely. Our Peninsula is full of other confectionery treasures for this festival, indeed we do not want the regions that, for reasons of space, we had to leave out. But who knows if they are not the starting point for a new Carnival article!
By Claudio Accept and Michele Cerrato