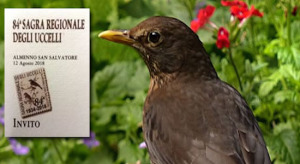 Only the Second World War in the past it managed to stop the Regional Bird Festival of Almenno San Salvatore (Bergamo), edited by the local section of Hunting Federation led by the indefatigable Diego Cornali, but this time the Covid: the 86th edition was postponed to Sunday 8 August 2021. "Not even having so many volunteers would it have been possible to succeed in the enterprise - explains Cornali-. Other fairs of our level will also do nothing. It's hard, A former volunteer of ours also died recently.
In 1944 gatherings were forbidden, today it is impossible in any way: two of my volunteers are alive by a miracle, we are sorry but we are forced to postpone next year ". Almenno San Salvatore has always been a fiefdom for hunting and sheds and Federcaccia over the decades has carried on the currently oldest Fair in the province.
During the Covid 19 emergency the Federcaccia section donated 1.000 euros to the local Blue Cross, a small contribution waiting to be operational again next year with an appointment that, we are convinced, we will miss it very much this summer.