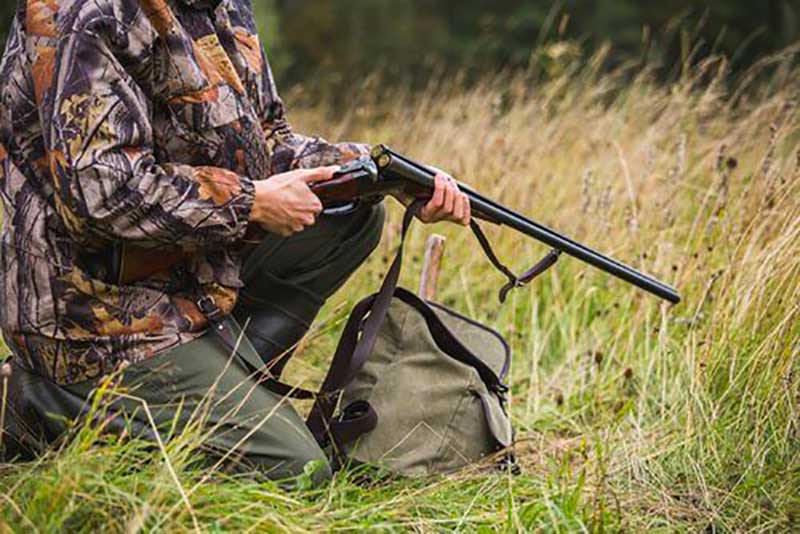 #ObiettivoCacciaPassione Literary Contest - Nobody gets bad all of a sudden, they say. It seems that the famous Al Capone began his criminal career at the tender age of four by stealing fire hydrants in the gardens. And the chewed paper balls that John Dillinger threw at his first-graders were the symbolic precursors to the lead bullets he would later explode at the cops. The beginnings are simple and the circumstances that lead an individual down the ever widening road of illegality are varied. And the first step I took on that dangerous slope was very simple. When I turned twelve, my uncle gave me a single barrel .22 Beretta shotgun and taught me how to use it. For almost a year it never occurred to me to shoot anywhere but in a shooting range, in my hometown of Forlì, in Romagna, and never at anything more animated than a can or a cardboard target. Then one summer morning the fateful opportunity came. In our garden there was a strawberry bed. We had planted them in the spring and to our great joy they began to produce enough fruit to make the morning breakfast more interesting. But one bad day a family of wandering thrushes spotted the red strawberries and began looting them without regard. I thought of raising a scarecrow, but the strawberry plantation was so small that the idea seemed impractical. Instead, I devised a plan, which at first aroused some scruple of conscience. It would have been so simple to half-open the window on the ground floor a few centimeters, put the gun on the sill and target the strawberry bed ... Those thrushes were cheeky thieves: they had to be taught a good lesson. So I started pulling the trigger and the marauding family dwindled by one with each shot. Venial sin, mine? Perhaps. But it was a prelude to a series of events. For a short time my .22 lay at rest, covering itself with dust. Then one day I observed a small brown animal that systematically pecked its way through our lettuce. I looked closer. It was a quail! But as far as I was concerned, it might as well have been a deer with a magnificent pair of trophy antlers. I took out the good old .22, and the little female quail rolled upside down.
Then came winter with deep snow. Wild birds died by the hundreds. Late one afternoon, at a time when the bare trees cast long blue shadows on the white powdery snow, I was sneaking along a dry stream bed. As no game warden was in sight, at a certain point I got out and, trudging through the deep snow, scrambled up a small hill. Just beyond the top was a cluster of skeletonized, bare-branched oaks. I noticed a horizontal branch which, strangely enough, had instead retained almost all of its leaves. Suddenly I opened my eyes in amazement. They weren't leaves: they were cesene, perched in rows. I crouched in the snow, to better blend in with the landscape, being dressed in white, and fired on the bird at the far left. He broke away from the branch and plunged headfirst into the cold sheet below. I had planned to fire a single shot; the cesena is a bird with quick reactions and I therefore thought that all the others would immediately fly away. Instead, to my amazement, they remained still, as if glued to the branch, without batting an eye. Even when two others tumbled down in the wake of the first, the rest did not move, as if they were embalmed. I fired on the fourth and saw it swing slightly without breaking away from the branch. I fired again; I saw her flip over but hang upside down, like an acrobat. Finally the others began to wake up from their strange lethargy. With frightened chirps and a violent flapping of wings, they took off one after another. I approached and saw that two were struggling to detach themselves from the branch; but they finally succeeded and whisked away.
I picked up the birds I had killed and which had sunk into the snow. Examining them one by one, I saw that their paws were caked with ice. The whole flock had been trapped by the cold on the branch on which it had perched. I began to think what a good smell the chesene would emanate from frying in a pan. Then I said to myself, "It's not very fair to kill birds that can't even fly." Behind me in the snow lay five empty shells, and only ten meters away a post with a sign "No firing" stood up like a sentry. "What harm have I done, after all? Another mocking voice answered inside me. "Those poor Cesene were freezing to death. Wasn't it a good deed to put an end to their suffering? ". Over the years, like all criminals who persist in their crimes, I found that the voice of my conscience was weakening more and more, until it was completely silent and I began to poach for pure amusement. The other voice, the bad and unscrupulous one, had become stronger and stronger and spoke more often. "Shoot! He commanded me imperiously, and I obeyed. Then happened the incident that Jerry, who became my poaching companion, and I dubbed "the episode of the great racing circuit". At the beginning of autumn, about a month before the duck hunt opened, Jerry and I were driving back from Fosso Ghiaia, a town located a few kilometers from Forlì. We had been hunting wild rabbits, unsuccessfully, and were making a sly way back, when in the middle of a prairie we saw two ponds in the shape of horseshoes, on one of which a flock of ducks sailed placidly. Near the shore, isolated from his companions, was a beautiful mallard.
Automatically Jerry slowed and I reached out to grab my .22 that lay in the back seat. A little later we stopped and I rolled down the window. We gazed at him for a few minutes, the mallard, his head shining like green satin. I aimed the barrel and fired a shot. The mallard flopped down on the still water. At that moment Jerry glimpsed. something in the rearview mirror, he let out a muffled exclamation and hurried into gear. A few moments later we were washing as if the old Fiat had a jet engine. To be honest, he had only a new Alfa Romeo engine, recently installed. Behind us a green van was chasing us at full blast. "I smell the gamekeeper," Jerry muttered through clenched teeth. He hit the accelerator again, the speedometer needle went up to nearly 120 km per hour, and our pursuers were soon obliterated by clouds of dust. As we ran desperately, the road began to turn in a great circle, and at one point we found that we were heading back towards the pond. Thinking we had now freed ourselves from our enemies, we paused for a moment by a canal to give Jerry time to cut down a teal. He was lying on his stomach, with his arms outstretched in an attempt to grab the bird that was floating a meter from the shore, when I saw the usual green truck appear in the distance. At my cry of alarm Jerry tried to get up, but slipped onto the slimy bank. I rescued him by pulling him up by the ankles just as he was gliding with his head in the water like a ship at launch. When we set off again, we almost felt like we could feel the warm breath of the cops on our necks and we were afraid they were close enough to read our license plate. But we again managed to distance them, and we became bold enough to stop a little farther on to kill two gadgets, which we successfully recovered without interruption. Only when we set off again did we see our tenacious pursuers about half a mile behind us. By now that roundabout race had become a fun for us. Drunk with confidence, we devoted ourselves to the game with passion. When the sun went down we had repeated the same circuit four times, covering about 160 kilometers.
I will not be here to tell all of our subsequent exploits. We were now convinced that a special star was protecting us, and that the gamekeepers were idiots who only served to make the game more fun when the patatrac happened. We were arrested. Ironically, we didn't intentionally violate the law that time.
It was a cold and windy winter day and we were about to pull over a flock of shovelers by a canal, but we hadn't fired a single shot yet when we heard a siren scream and saw a green truck with a blue lighthouse at the top, and a man beckoning us to come closer. He was a gamekeeper. When we were in front of him, he arrested us and confiscated our licenses and weapons, accusing us of having gone hunting on a reservation. The following week we were called to court, had to pay a small fine and have a lecture from the judge. Nothing else, fortunately; in fact we learned that they had arrested us by mistake, having mistaken us for other poachers who had slaughtered ducks, one night in the moonlight, on the great salt pan. The latter had been arrested shortly before and slapped in prison. Having cleared up the misunderstanding, they returned our weapons and hunting licenses. This indulgence on the part of the judge and the kindness of the keeper gave us to reflect. Perhaps the representatives of the law weren't that bad after all. And for the first time I began to wonder if it was really worth continuing that life as a poacher. I even went so far as to make the resolution to redeem myself, but without much conviction. For some time I behaved well, but soon the passion for hunting took over. Then something happened. Something that finally brought about the transformation that my purposes, the persecutions of the gamekeepers and the solemn warning of the judge, had not been able to accomplish. It was during the next hunting season while I was stationed on the lake shore. From afar came a sound as of a group of Alpine mountaineers warbling yodlers; gradually it increased in volume. I looked up and saw an immense flock of geese approaching from the north, flying rhythmically flapping their wings. I was wondering where they came from and how long the journey could continue without descending, when about a hundred meters away I saw a hunter emerge on the lake shore. Then I saw a puff of smoke, and up above a goose broke away from the flock and ran wildly towards the lake. Only a shotgun ball could have brought a bird down from that height, I thought. The hunter came out of his shelter and splashed in the water. I noticed that the goose was still alive and was trying to escape by swimming. The stranger fired three shots at him before managing to kill her. I saw the majestic bird slowly lower its long neck, then turn its head back as the wind ruffled its feathers.
The man grabbed him with greedy hands and dragged him towards the shore. Then I felt something begin to burn inside me like hot coal. "Coward, murderer ..." I muttered. However when the stranger landed, someone I hadn't seen before stepped forward. At first I thought he was his friend, but he wasn't. He was a gamekeeper, an energetic man who knew his stuff, I was satisfied, witnessing their meeting. I felt a surge of affection and cordiality towards all the gamekeepers in general and towards the one in particular; a feeling they had never inspired me until that day. But suddenly I thought, "You've done a lot of bad things too, just as bad as that guy. It's pure chance they arrested him instead of you. ' From that day a radical change began in me. My companions were amazed and worried and began to make fun of me, calling me little saint. But I didn't care about them because I was fighting my own personal battle. It was a tough fight, but by now I understood what sense there was the respect of the laws and the duty of loyalty towards one's fellowmen.
Finally, on a warm autumn afternoon, the moment of the decisive test came for me, up in the mountains. It was deer hunting season and I was walking down a path back to camp. Before me was a grove of aspen trees. Something moved as I approached, and among the white trunks I saw a large, pitch-black, male grouse, stalking on a fallen trunk. He was only thirty paces away, but he couldn't see me because I was hidden by the trees. As if hypnotized, I raised the rifle to my shoulder. Then I aimed it carefully at the neck. How simple it would have been. I could snap his head with a single blow, and his flesh would give me a delicious meal. The bird had stopped and was absolutely still, as if to defy me. My bad voice, a voice I knew all too well by now, whispered to me, "Come on! Shoot what's wrong with killing a grouse? There are so many, and no one will miss him. Shoot! ". I folded my finger more firmly around the trigger; but suddenly I stopped. I no longer saw the grouse. In its place I could see an expanse of gray water and a dying goose. I began to lower the rifle. The grouse was still there when I roused myself from that vision. Suddenly I waved my arm in greeting and shouted at him: «Go away! Fly away! ". The bird obeyed. I saw it rise vertically, with a loud buzz of wings. Then he disappeared, and silence reigned around him again.
COMPETITION LITERARY CATEGORY - "Passion Hunt Goal"

Increase your chances of winning. Vote, Share on Facebook and Instagram and get your friends to vote.