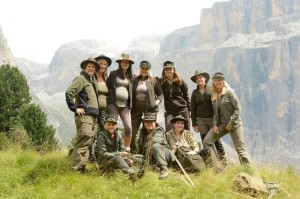 The calendar for the charitable purposes of the Trentino Huntresses Group is still talking about itself. After the insults addressed on Facebook to the hunters themselves by groups of animal rights activists, real vulgarities with threatening tones, the complaint was unfortunately not followed up. As reported by Trentinocorrierealpi.gelocal.it, two slayers had turned to a lawyer for a lawsuit for defamation, threats and insults.
The investigating judge, however, accepted the request of the Prosecutor and decided to file the case for the "groundlessness of the crime". According to one of the complainants, this decision is a real mistreatment, not so much as a hunter but as a woman. The sentences addressed were very heavy and aggravated by the fact that they were written by other women.
The huntress also confessed to being afraid, branding the perpetrators of the insults as "fanatics", protagonists of retaliation that do not make us rest assured. The association's calendar, chaste and much appreciated, is an appointment that has been repeated since 2010 (the project was conceived in 2009) and its beneficial intent makes it even more interesting.