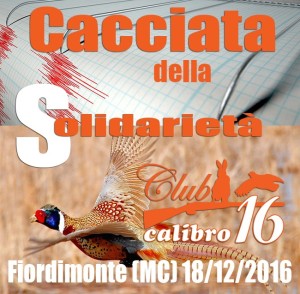 It took place with great success in the Marche region expulsion of solidarity organized in favor of earthquake victims since Club Caliber 16. The Sunday just passed was characterized by the strong spirit of initiative that pervaded the beautiful places chosen, those of Fiordimonte reserve (in the province of Macerata). The participation of many people of good will made it possible not only to raise funds for the unfortunate populations, but also to bring solidarity and joy.
In addition, work has been brought to those who live and carry out their profession in the Valley. As reported by the same Club, the day went very well and the goliardic and contagious spirit of hunters it was useful to cheer up the spirits a bit. The expulsion was designed precisely to ensure an important day of work for the hunting farm "Valle di Fiordimonte" and the other connected accommodation facilities.
Richard Ceccarelli, number one of Caliber 16, has invited other groups of enthusiasts to follow this example, in order to give continuity to the work of these places that are struggling to get back to normal. Ceccarelli also thanked Franchi and Danesi Sport for the support provided.