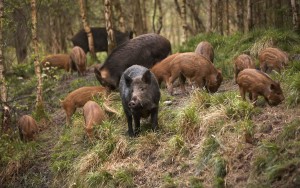 In Puglia the Murgian territory is increasingly threatened by presence of wild boars. Local authorities and farmers are at loggerheads since the number of ungulates is considered excessive and the interventions did not allow to solve anything. The sightings of the flocks, particularly in the late afternoon and evening hours, are happening very quickly and the safety of motorists and people is at risk.
Farmers in Andria have been asking for a long time to monitor more carefully the presence of wild animals, reducing their number through the selection hunting. Obviously, hunting associations and even the world of volunteering are also hoping for the same type of solution. By the way, the mayor of Spinazzola (in the province of Barletta-Andria-Trani), Michael Patruno, addressed the Province and the Puglia Region.
The mayor would like these entities to deal with wild boars in an organic way, issuing them quickly a regional regulation for the planning and planning of hunting and control. The document was supposed to be ready by the end of 2016, now the new year has just begun and there is no trace of it.