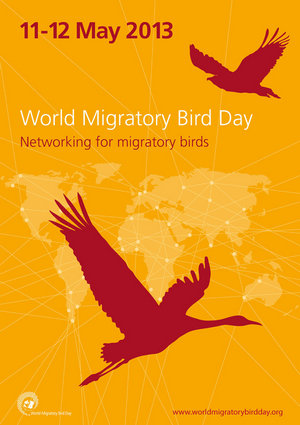 All over the world, the World Day of Migratory Birds is celebrated on 11 and 12 May 2013.
This year the World Migratory Bird Day will be celebrated all over the world on 11 and 12 May in order to spread and raise awareness of the interest in birdlife and the fantastic world of migrations. It is an occasion in which local events can celebrate this splendid world by promoting activities such as bird watching, educational activities, artistic and literary exhibitions.
FEIN, like another hundred partners, participates every year in the promotion of this global event of the WORLD MIGRATORY BIRD DAY, this year with the initiative of "Osservatorio Porte Aperte". Many projects have sprung up within this event, including the international water bird census which involves tens of thousands of volunteers all over the world.
On the website www.worldmigratoryday.org it is possible to find many and valuable information on the varied world of migration related to the many projects carried out and continuously updated. The World Day of Migratory Birds is an initiative that is repeated every year and arose on the recommendation of UNEP / AEWA (Agreement on Migratory Water Birds of Africa-Eurasia) in collaboration with UNEP / CMS (Global Convention on migratory species), two world organizations coordinated by UNEP - United Nations Environmental Program.
April 17 2013