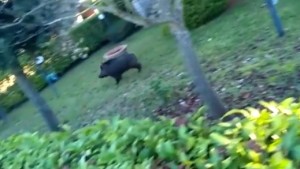 A real general mobilization. TO Siena, to be precise in the area Scacciapensieri, men and vehicles intervened to capture a 120 kg wild boar that was causing panic in the neighborhood. The emergence represents from the ungulates it is serious in this part of Tuscany and it was necessary to involve brigade, Carabinieri and Police.
The mobilization lasted from late morning until evening: the wild boar managed to reach the inhabited center after escaping from the valley, until he slipped into the garden of a villa. The fence of the house was bent without too much trouble from the wild. They also arrived on the spot three veterinarians of the ASL and finally the capture was possible also thanks to the narcotic.
The boar tried to escape despite the three doses administered. Once recovered, he was transferred to the wildlife rescue center. However, the emergency is not over and this story only increases the requests for urgent interventions and targeted abatement plans.