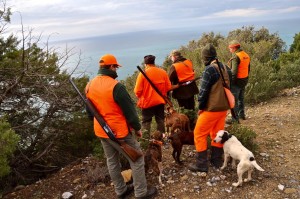 The press release of the Federcaccia Tuscany regarding the words of the president of Arch Hunting, Sergio Sorrentino, on the wild boar hunting did not go unnoticed. Arci Caccia called the criticisms a "clumsy manipulation" of the meeting held last year 17 March: Sorrentino's intervention has been reconstructed in detail, in particular the preference expressed unequivocally for fixed areas.
The number one of the association had stressed that he wanted to give preference to these areas for a more responsible management of the territory, suggesting an annual and three-year assignment to the teams in case of rotation. Furthermore, at that meeting Sorrentino had talked about the impossibility of making farms in the name of hunters. To represent Arci Caccia there was also a national councilor, that is to say Sirius Bussolotti.
The words of the Italian Federation of Hunting were judged as a damage to the image and role of the harbingers and of all hunters in general. The FIDC itself was invited to worry about other issues, primarily the text of the new statute of the Confederation of Tuscan Hunters. Finally, to protect the name of the Arci Caccia, recourse to legal action was not excluded if it were to become necessary.