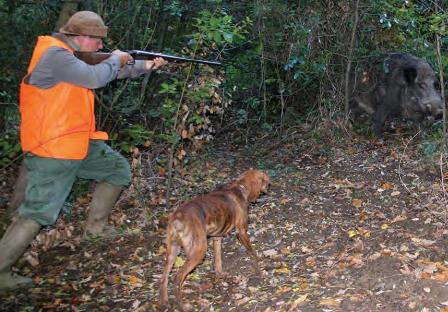 Federcaccia Umbra asks for immediate changes to the regulation for the hunting wild boar in the region to remedy the anomalies that penalize resident hunters.
Last Saturday, October 3, the wild boar hunting. This activity is governed by a new regulation which, rightly, also wanted to organize the hunting practice of wild boar exercised in a single form, like the already strictly regulated collective form.
But if the spirit was right, the rules issued in our opinion will create even more confusion and concern, making the correct management of the species fail with a consequent possible increase in damage to agricultural crops. We think, in particular, of the introduction of the so-called single form "alla cerca" which, as formulated, will make this activity uncontrollable, exposing those who practice it, those who practice other forms of hunting and also those who, for various reasons, want to greater risks. live a day outdoors. Hence our repeated requests for changes, unheeded until now, but which we will repeat on every occasion.
But what aggravated this situation even more was the interpretation that the Umbria Region, at our specific request, provided us on 11 September last. An interpretation that extremely discriminates Umbrian hunters for the benefit of those who, coming from outside the region, do not have to submit to the same constraints to practice wild boar hunting in single form. In particular, article 10 / bis of the aforementioned regulation prohibits those who intend to hunt wild boar as an individual from being registered in a team at the same time.
Well, if this constraint is valid for all Umbrian hunters, it is not valid for hunters from outside the region who have signed up to any Umbrian hunting area. The latter, in fact, can - at the moment - easily be enrolled in a team of wild boarists from another region and, at the same time, practice wild boar hunting in single form in Umbria. Well, on this issue, raised by us with the just vehemence of those who try to protect the rights of all, so that everyone must respect the same rules, the managers of the Forestry, Economy and Mountain Territory Service of the Umbria Region have provided us with an interpretation that leaves you stunned.
For the Region, in fact, it is sufficient that the hunters are not enrolled in wild boar teams falling on the Umbrian territory, without caring about what happens outside their borders. In fact, this is a clear invitation to all fans from outside the region to go to Umbria to practice wild boar hunting in single form, with evident damage for local hunters and for the management as a whole.
Therefore Federcaccia Umbra, certain of the erroneous interpretation of the regional offices, makes a strong appeal to the councilor for hunting Fernanda Cecchini, to personally take care of the entire problem and heal the situation in the interest of all hunters, whether they are passionate or not. boar hunting.
Federcaccia Umbra Press Office
(13 October 2015)