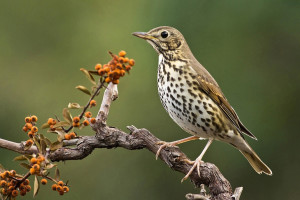 It was published in the 40 issue 2018 of the international ornithology journal "THE RING" the work "Timing of pre-nuptial migration of the song thrush turdus philomelos in Calabria (southern Italy)", which Italian Federation of Hunting through the Avifauna Migratory Office and the UCIM had promoted from 2012 to 2014 in two ringing stations located in the provinces of Reggio Calabria and Crotone. The study, by the authors Eugenio Muscianese, Giuseppe Martino, Pasquale Sgrò, Sergio Scebba and Michele Sorrenti, shows that the pre-nuptial migration of song thrush in Calabria starts from the second decade of February, confirming what emerged from the other published works that have studied the species in Lazio, Puglia, Campania and Umbria with VHF telemetry.
The results of this research have already been used by the Calabria Region for the preparation of hunting calendars and for maintain the closure of the hunt for the species on January 31st. On this topic, the Calabria Region, with Federcaccia Calabria present ad opposendum, won two appeals to the TAR, which considered the reasons present in the calendar resolution valid, in deviation from the ISPRA opinion which proposed the closure of the hunt for the species on 10 January the first time and on the 20th the second.
One more demonstration that the scientific approach and research promoted by FIdC have a direct impact on the expectations of hunters and that the path traced is the right one. The discussion on Key Concepts is underway these days and this work is also part of the evidence brought by FIdC to the Ministry of the Environment. The study and publication are dedicated to the memory of Gennaro Giuffrè, the late regional president of FIdC Calabria, who strongly wanted the carrying out the research. Anyone interested in receiving a copy of the article can contact the Secretariat of the Bird Migration Office at the email address [email protected].