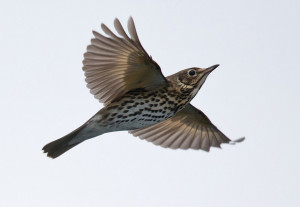 In this strange post-nuptial migratory movement where the Beccafichi (optimal migration) and the Black Balie (very modest migration, even for the Prispoloni) still occur, accompanied by some late Redstart, on 21 September the Song Thrushes. The big turdids are a pleasant sign of what the sheds await as the beginning of their magical days at the shed. Unfortunately the sudden weather change of Sunday morning 22/09 he lost the "sprint" he had hoped for.
But we are only at the beginning and the game of the phases of the moon, with the weather forecasts that seem tending towards the beautiful for the beginning of October, opens a window to the optimistic forecasts on the pass. On the sidelines of these notes, for the more curious, the interesting ringing of a black woodpecker is noted at the Arosio Ornithological Observatory where, during the week just ended, the Blackcap has registered with numerous migrating individuals. The fact confirms, once again, that the current study highlights how the species, in the last decade, is moving its presence to the lower latitudes where some individuals are adapting by changing those lifestyle habits which ornithologists were usually accustomed to observe.
This change, which in the western Lombard sector has long been observed at the Pineta Park (in the provinces of Varese and Como) and in the Parco della Valle del Lambro and Brughiera Briantea (in the province of Como), was even more highlighted in this last year at Park of Monza (in the province of Monza and Brianza) and in the Parco Regionale delle Groane (in the province of Milan) where the great picide has nested, successfully reproducing it, as reported. Walter Sassi at the Arosio Ornithological Observatory.